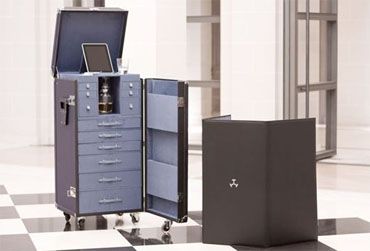 Home Decor:
Last month we reported on the world's most expensive
iPad case
from designer David August for $6,900. Paris-based T.T. Trunks has just eclipsed that with a new trunk featuring a built-in iPad holder, priced at $35,000.
Of course, it stores a number of other gentleman's essentials as well, from spirits to cigars to poker accessories. The "New Dandy" trunk is made-to-order with the world's most exquisite woods, leather and canvas from Europe's finest craftsmen. Every aspect of its construction is done completely by hand. In addition to an iPad stand, the trunk features a power pack for mobile devices, seamlessly integrating modern technology with the design of classic luggage from the golden age of travel.

The central part of the trunk holds a whiskey decanter and glasses for enjoying one's favorite tipple. One drawer is fitted with a humidifier and hygrometer for storing fine cigars. Another houses a full set of poker chips, two decks of playing cards and a foldable poker table that fits into the trunk's door. The other drawers can be customized to the client's specifications to hold neckties, watches, a shoeshine kit and other luxe accessories.

The trunk features five lockable wheels for ease when transporting and all the solid brass hardware can be plated with a layer of nickel, palladium or 24 karat gold.

Visit T.T. Trunks official site to learn more.