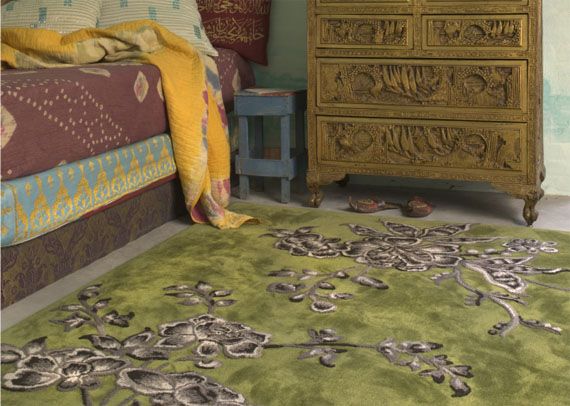 Photo Courtesy of Tai Ping
The new Boheme Collection from luxurious Tai Ping Carpets is inspired by "Glamorous Globetrotting," not your typical hippie trip.

Tai Ping is an internationally acclaimed brand, found in hotels, jets, yachts, private offices and homes, known for using unique, luxurious materials and quality craftsmanship; and the new Boheme collection is no different.

The collection has striking mixes of abstract shapes with bright, multi-color hues of blue, green, yellow and rose, along with a base of blacks in both shiny and matte effects. They are inspired by everything from folkloric embroideries and Portuguese needlepoint to expressive brushstrokes and exuberant tie-dye patterns.

Created by Yasmina B. Kossmann, Director of Design for Tai Ping and her team of designers, the collection is based on the study of the color palettes, styles, and traditions of Portugal, Sardinia, Turkey, South Africa, India and Brazil and other countries around the world. The emphasis on globetrotting resulted in the 19-rugh Boheme collection, which includes:

Agistri is made in delicate silk in shades of yellow and takes its name from a small bohemian Greek Island. The pattern's design is inspired by tribal flat weavings with natural dyes that create uneven and broken striations.

Bonorva is named for a region in Sardinia known for a rich tradition of ancient loom-weaving. The design of Bonorva is composed from different traditional patterns and borders usually made in bold colors that are modernised with the use of black in wool and silk.

Bosphorus is named for the Turkish strait used during the Silk Road period. The design updates the style of the traditional Persian rug through the use of unexpectedly bright hues in delicate silk semi-shag.