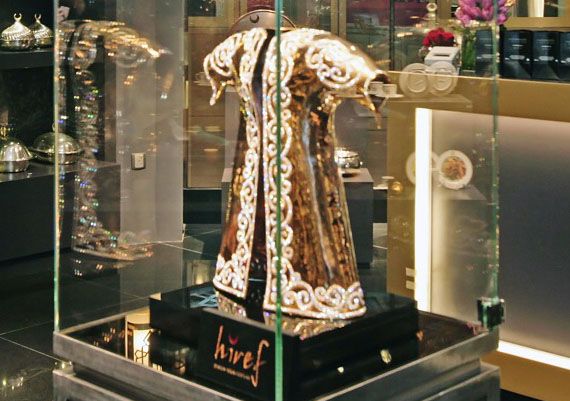 Photo Courtesy of United Development Company
Hiref, a Turkish luxury artisan crafts and accessories brand, has recently launched its showroom in Porto Arabia at The Pearl-Qatar with an exclusive event held on April 14, 2011.
Guests attending the event - including Ambassador of Turkey in Qatar, Emre Yunt and Mrs. Yunt - were in admiration as they embarked on a cultural journey through the unique handmade designer products on offer at the showroom. Hiref's concept was born to preserve the original art from handmade products of Anatolian artisans.
Hiref's unique design collections unite the "historic" with the "modern" while harmoniously blending centennial cultural values with contemporary interpretations. Although Turkish in origin, Hiref is a global brand and its designs have been recently profiled in the
New York Times
and the
Financial Times
.
Guvenc Kilic, CEO and co-founder of Hiref commented, "At Hiref we believe that the rich heritage of the world needs to be blended with a modern design philosophy while remaining faithful to the original and this is reflected throughout our numerous designs. As such, we have been very selective in our expansion strategy, with locations such as Ankara,
Istanbul
, Jeddah and now The Pearl-Qatar, our latest luxurious designer location."
Each Hiref product - designed to perfection and of the highest quality - reinforces Hiref's status as the ultimate trendsetter of the cultural design world. Hiref's implementation of Turkish values on striking contemporary designs has been a hit with many
luxury hotels
, stores and homes around the world.
Theo Swart, General Manager, United Fashion Company (UFC) said, "I am pleased to welcome Hiref to The Pearl-Qatar. Hiref's unique range of high quality handmade products will undoubtedly add to the magnificent retail experience currently offered at The Pearl-Qatar, the number one destination for international brands in Qatar."
Hiref's unique luxury collections can now be found at The Pearl-Qatar's exclusive Porto Arabia, rubbing shoulders with brands such as Hermes, Ferragamo, Giorgio Armani, Roberto Cavalli, Gianfranco Ferre and Hugo Boss, to name a few.
Before flying off to Qatar for an excessive shopping spree, make sure you browse through
Hiref's online catalog
first - just in case you want to pay a visit to Hiref's nextdoor neighbors.
Pearl-Qatar
From left to right: Onder Cerenzci, Khalil Sholy - MD/P UDC, Ghada Sholy, Emre Yunt and Mrs. Yunt Ambassador Turkey in Qatar, Ebru Cerezci - Partner, Guvenc Kilic - Partner