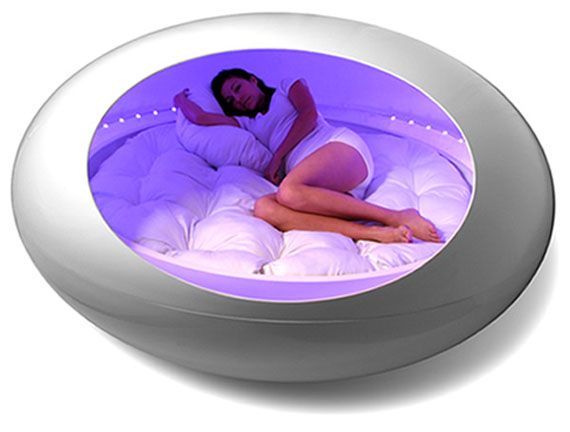 Photos Courtesy of Alberto Frias
A personal desire for a place of meditation akin to being at the beach watching and listening to ocean waves is why Alberto Frias, created his eclectic Transport Perceptual Pod Bed. It also was used as his masterís thesis project at the University of Mexico, where he received a masterís degree in architecture in 2003.
The meditating architect today has a store in Beverly Hills and three pods to his credit: the Transport Perceptual Pod Bed, the Om Pod, and the 3sum. The former Ēis an elliptical-shaped fiberglass shell that contains a waterbed, an LED lighting system, and a high-fidelity sound system. The latter two do not house a waterbed.
The elliptical-shaped ďmyPodĒ with the waterbed comes in two sizes. The standard-size unit weighs 350 pounds and is large enough for two, measuring out at 6.5 feet by 6.5 feet and is 3.5 feet tall. Additionally, there is a larger version available, which holds a bigger waterbed that weighs 500 pounds and is 8.5 feet by 8.5 feet and 4.5 feet tall.
The OM Pod (right) sans waterbed is smaller and lighter. It weighs 100 pounds and measures 62 inches by 32 inches and is 55 inches tall. The 3sum, which weighs the same as the OM Pod, is wider.

All three pods contain an iPod universal dock, a Philips Color Kinetic LED lighting system and a high fidelity system that features speakers by Anthony Gallo. The price range of the personal-pod furnishings is between $10,000 and $12,000 each. Customized models are available upon request.

Look for futuristic-styled pods at a theater near you in the next installment of the popular Men In Black film franchise, Men In Black III, in 2012.

For more information, visit AlbertoFrias.com.