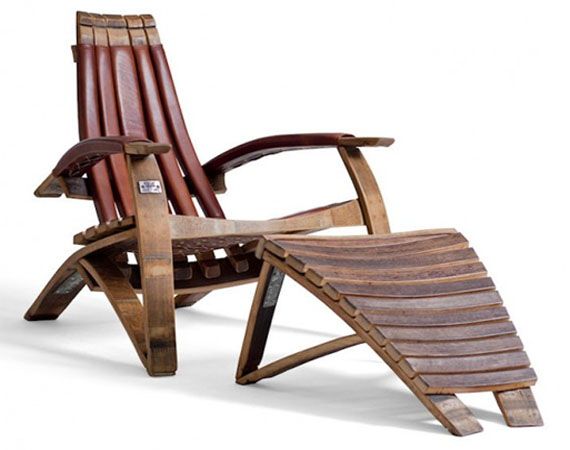 Photo Courtesy of Barrelly Made It
In the United States, a barrel crafted from American white oak (
Quercus alba
) and used to age the spirit that will become Bourbon, Tennessee
Whiskey
*, sour mash, or any number of craft whiskies can be used only once, as specified by law. After this use, most of the used barrels are sold to distilleries in Scotland and Ireland for maturation of their whiskies. In America, the barrels are generally used between three and eight years. Across the pond, they are used to age the spirit for three to upwards of forty years.
After contributing their distinctive characteristics to the aging spirit — primarily sweet, smoky, spicy and caramelized aromas and flavors — the oak barrels are ready for the next stage of their lives. This reincarnation sometimes takes exotic turns, both in use and geography.
Whiskey Barrel Stave Furniture
Reconfiguring staves into tables and chairs is not new. What is unique, however, about the connoisseur-quality pieces being crafted in San Diego by Barrelly Made It (BMI), a division of Planet Rooth Design Haus, is their U.S. Design Patent (#USD615313S), and the attention to detail in construction and style.
BMI is the manifestation of Creative Director Gustaf Anders Rooth. A transplanted Swedish designer and Master Craftsman, Rooth creates pieces from reclaimed whiskey barrels from American distilleries and wine barrels from local and Northern California wineries. Each component of the barrel is recycled and reused, including the heads (ends) and steel bands.
Commitment to quality, both in design and execution, is a hallmark of BMI. "We are about integrity, style and grace," says Rooth. He continues, "The furniture's integrity stems from my training in Sweden, and also through the materials. The noble oak was hewn from trees many decades old and served an integral role in the creation of fine wine and spirits. The furniture's style is that it just looks good. In fact, many of our chair sales are to collectors who purchase without ever sitting in them first! I like to think that grace, or elegance, is the result of our integrity and style."
BMI is housed in an upscale area of San Diego, surrounded by galleries, cafés, medical offices and stately homes. The City of
San Diego
zoning department loves the small company because of its boutique production, with no noise nor pollutants (the protective sealant is water based and non-toxic). In addition to Rooth, the company employs a second Master Craftsman, an executive assistant specializing in IT, a Craftsman, and CEO. When the company was new, the furniture was called "Bohemian Chic," but with a hand-stamped medallion of authenticity affixed to each piece, and the granting of the Design Patent, that moniker evolved into "Functional Art," and "clients" became "collectors," residing in more than a dozen states and several countries.
The concept of integrity comes up a lot when listening to Rooth. He is fond of saying "I want our work to appeal not to the masses, but to the connoisseur of the finer things in life." He put this relationship-over-retail and quality-over-quantity mindset into action in 2011 when he turned down a potentially lucrative deal with a luxury retailer for an initial order of nearly 100 chairs across the organization's network, and direct order fulfillment from stores. "I realized how important it is for me to know where my business comes from and to have that control. What would have happened when the deal dried up? What about the people I would have had to hire to help me?" That's integrity.
Planet Rooth Design Haus
3334 5th Avenue
San Diego, CA 92103
BarrellyMadeIt.com
Flooring Made From Recycled Whisky Barrels
It's a dastardly fate. After serving the Scotch whisky industry for decades, transforming new spirit from the stills into liquid gold for consumers, thousands of expended barrels per year are destined for the land fill. Although the wood has been exhausted of its ability to properly influence the aging
whisky
, it remains beautiful oak, from one-half to three quarters of an inch thick. Most of the wood is American white oak (
Quercus alba
), having previously aged U.S. whiskey before its service in Scotland, and some is European oak (
Quercus robur
), having previously aged sherry, in Spain.
Enter Richard McKay of McKay Flooring, Ltd., Glasgow. The company is one of the UK's leading hardwood floor specialists, with over 40 years of craftsmanship and experience behind it. This expertise led to an engineered process to make flat boards out of the beautiful oak staves. Distinctive markings and brandings of the Bourbon, sherry and whisk(e)y manufacturers who have used the barrels over the course of their lives are intact and add to the bespoke nature of a recycled stave floor.
Recently, McKay Flooring used whisky barrel flooring as wall covering as part of the extensive renovation of the Laird's Room in Glasgow's exclusive Corinthian Club. Comments McKay, "The range of these barrels is really quite extraordinary. Some are sherry barrels from the Spanish town of Jerez, others are Bourbon barrels from all over the U.S." Another innovation of the company is to use cobbles, actually scrap material left after cutting staves to the proper length, are also finding a new calling as wall décor.
McKay's Whisky Barrel Flooring has been accepted into the prestigious Material ConneXion library of innovative materials. Material ConneXion is made up of an international team of experts that bridge the gap between science and design to create practical manufacturing solutions. 
McKay Flooring Limited
123 Harmony Row, Govan
Glasgow G51 3NB
McKayFlooring.co.uk
*
Traditionally, whiskey made in America is spelled with an e, unlike Scotch whisky.