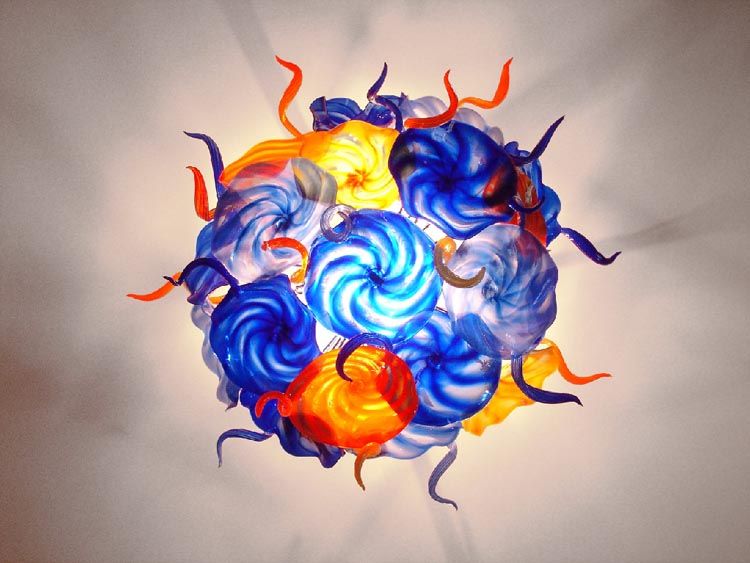 Photo Courtesy of Seth Parks
Glass work is one of our favorite
home décor
choices and Seth Parks Glass has a catalogue of hand blown designs that definitely stand out amongst the rest. We first saw these amazing creations in person at
Dwell on Design
and you can trust us when we say images just don't do them justice.
Parks crafts each piece by hand in his California studio, creating beautifully winding designs in the form of chandeliers, sculptures, and vases. Many of the brightly colored chandeliers resemble supernovas and sea anemones, which makes sense considering the artist draws his inspiration from the natural world around him.
Parks grew up with an obsession with art, constantly drawing and sculpting forms out of clay. Once he graduated from High School in 2003 he began taking lessons from a local glassblower and immediately became hooked. "I am fascinated with the way that glass moves when it is molten. I feel that you must move with the glass more than make it move," says Parks. The artist went on to take more classes at Snow Farm, a craft school in western Massachusetts, and various classes at The Studio of the Corning Museum of Glass, Penland School of Crafts, and Pilchuck Glass School.
Much of the work is inspired by nature and is often incorporated into the larger installations. "My goal is to incorporate these realistic natural forms into larger abstract natural forms that will inspire, excite, and sooth the minds of admirers," says Parks.
The right
glass accent
can make all the different within a home and we love the happiness infused into each of Parks' designs. His collection is filled with hues of bright oranges, yellows, blues, and reds that all work to give an uplifting sense of calm. The more subdued clear glass is not to be overshadowed by the brighter pieces though, giving off an ethereal glow from within.
If you really like one of the pieces but have an issue with the size or color, Parks is willing to work with your needs and can customize anything from size to specific colors. The prices range anywhere from $1,000 for a wall sconce to $10,000 for an entryway chandelier weighing 125 pounds.
For more information visit
SethParksGlass.com
.