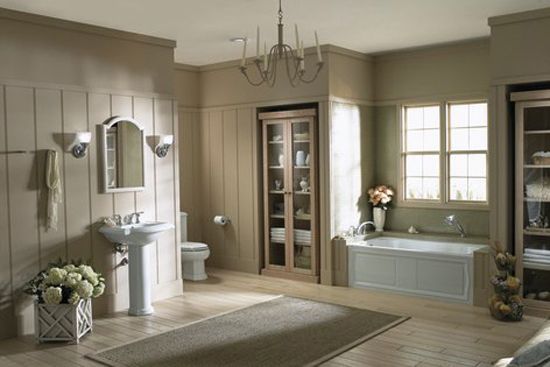 Photo Courtesy of Kohler
If you are looking to upgrade and give your luxury bathroom that much needed face-lift, there is no better place to start than the toilet. How do you go about picking out the brand that is right for you?
We love Kohler for their large range of luxury products, including the Devonshire collection. The company has been around since 1873 when it was founded by Austrian immigrant John Michael Kohler, who invented the bathtub. Since then, the company has grown into a multi-million-dollar operation, is one of the largest names in kitchen and bathroom products, and has more than 50 manufacturing facilities worldwide.
This Comfort Height one-piece elongated 1.6 gpf toilet is just what our bathroom was looking for. What makes this unit so unique is it is made using just one piece of ceramic to create both the tank and bowl providing a modern yet classic look. The beautiful unit features an elongated bowl and includes a Glenbury Quiet-Close seat that closes slowly to prevent slamming and damage to the unit. Due to the Quick Release functionality, the seat can be quickly unlatched from the bowl for easy removal when it comes time for cleaning.
Eco-conscious consumers like us love the fact the toilet's high-performance flushing system delivers powerful 3.5-gallon high performance all within a 1.6-gallon package. The single-flush gravity feature produces a clean flush and uses the force of gravity and a precision-engineered tank, bowl, and trapway to create a strong siphon during flushing.
The Comfort Height feature is yet another added benefit of this unit as it offers chair-height seating, making it easier to sit down and stand up, and is also ADA compliant. The toilet even comes in 11 different colors ranging from bright white to pure black.
The list price for this unit is $996.35 on the Kohler website and trust us, this one seems well worth the investment.