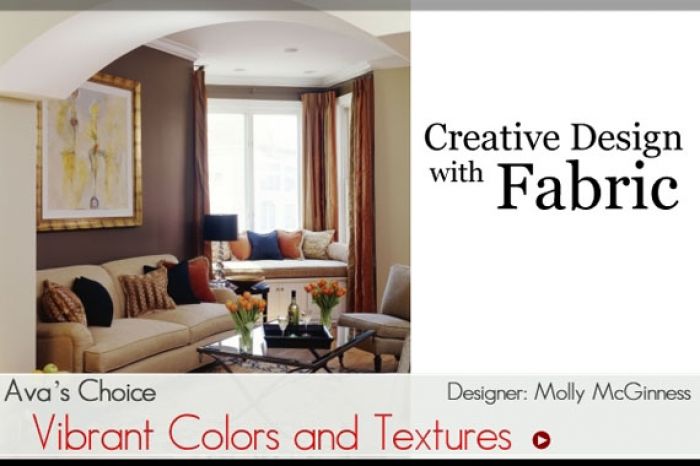 Home Decor:
Check out these beautiful rooms designed by our
Ava Designers
. Using fabric to decorate a room is an inexpensive way to add color, pattern and charm. Use fabric to soften a room, add romance, and give a room a finished feel. Fabric can be used in any room style, and on any budget!
Fabrics compliment the decor of a room. The sheer beauty of fabrics can give a facelift to any space. Fabric for home decorating can be used in couch covers, upholstery, slip covers, window treatments, bed coverings, table tops, etc. A fabric less room in a home looks plain and has a cold hard feel. Any room could be transformed into a warm, cozy and inviting place to enjoy with friends and family or just to relax, by the judicious use of fabric for home decorating.
It is important to use the fabrics which blend well with other furniture of the room. If you are using a specific decorating design as per the suggestions and advice given to you, then it is very easy to pick the fabrics for home decorating. But without any clue, it is a very frustrating job to choose them and you soon tend to get discouraged. Instead of progressing towards your dream home, you may end up in a nightmare of confusion.
Need help with choosing the right fabric for your room, Get a FREE Design Review of Your Room from a Designer of Your Choice at
Ava Living
.