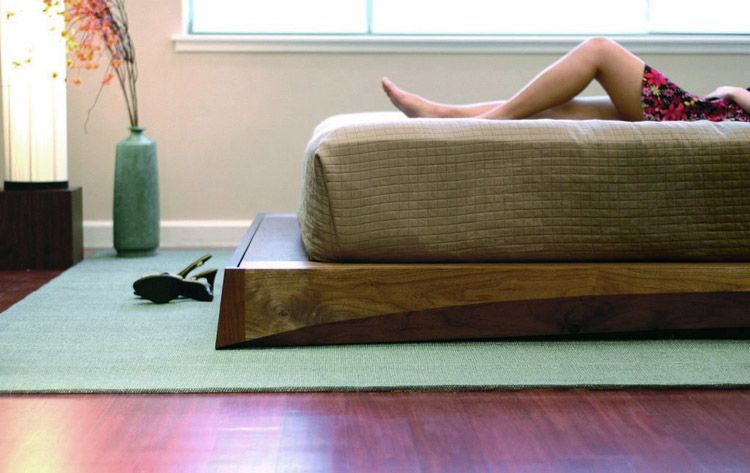 last year
, so you shouldn't be surprised that we've found more pieces that we just can't get enough of. The hardworking, self-taught duo of Daniel Hellman and Eric Chang take their profession seriously, churning out design after design, giving plenty to choose from when decorating our homes. From the antique look of the woods used to the contemporary twists and bends in the designs, these are a few standout furnishings we love.
Xie Writing Desk
Writers out there are sure to look twice at the sleek Xie Writing Desk (pronounced shay). This utilitarian workspace features a hidden pencil drawer that doesn't break the arched bevel of the façade. The legs have a bit of a twist to them, keeping in line with
Hellman-Chang's
design traits, giving the overall table an almost living look.
Aston Bed
Considering the bed is the central focus of any bedroom, you need something that will make a statement without being overwhelming. The Aston bed is made from solid wood and features a sloping headboard that is sure to draw just the right amount of attention. The bottom platform is a little oversized (seen in the first photo above), giving a nice step up onto the mattress, and clean lines follow the length. If you don't like the oversized design, you can order it to fit flush with the mattress.
Anora Lamp
Every home needs an interesting light source and the Anore lamp fits the bill. Showcasing the company's affection for the Z shape, the lamp is handmade in solid wood and uses its own weight to balance steadily. An asymmetrical lampshade, making the top of the Z, completes the look of Hellman-Chang's first lighting piece — adorable dog not included.
Z Pedestal Table
This tall accent table won the Best of Year Design Award from
Interior Design Magazine
back in 2006. The twisted design gives it versatility, giving you plenty of different shapes and looks depending on how you place it. Put it in sight of an entryway and periodically rotate it so that guests will think, even if for a moment, that you have a completely different table from what they saw the week prior.
Meridian Dining Table
The meridian dining table was inspired by the New York skyline, using randomly placed sculptural pillars at the base to evoke Manhattan buildings. Meant for entertaining, this table should be placed with the width facing the open room so the full design can be appreciated.