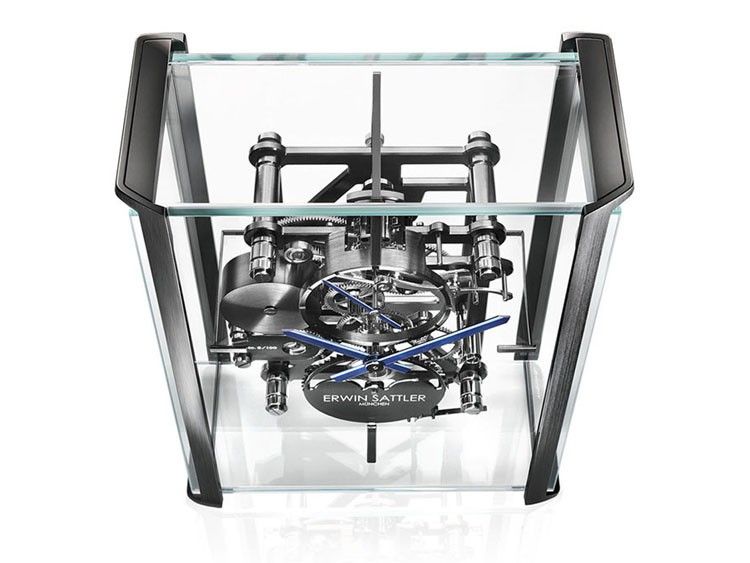 Photos Courtesy of Audi
Mechanical precision. Intricate engineering and craftsmanship. Simplicity of design. Status symbol. We could be talking just as easily about the horology industry as we could about luxury automobiles. Which is probably why so many automotive enthusiasts are also watch connoisseurs, and why we see so many collaborations between automakers and watchmakers: Bentley and Breitling, Aston Martin and Jaeger-LeCoultre, Ferrari and Hublot, and Bugatti and Parmigiani Fleurier. This latest collaboration we came across would seem to fit the same mold, only instead of a wristwatch, what we have here is a table clock designed by a prestigious automaker.
The project brought the Audi Design team together with Munich-based clockworks company Erwin Sattler. Unveiled at the Baselworld watch and jewelry show earlier in 2013, this artful clock only recently became available to order. Standing just under 30 centimeters (one foot) tall, the table clock is built in a glass case, with ruthenium clasps to hold the safety glass in place and display the intricate movement inside. The heart of the clock vibrates at 18,000 beats per hour, mounted on ball bearings to ensure the clock's longevity. The hands are mounted without a dial so as better to display the movement, with minimalist markers at three, six, nine and 12.
"Design is a reflection of technology," says "André Georgi, head of product design at the Audi Concept Design Studio in Munich. "This is why we very intentionally display the technical details of the clock."
"The premium clockmaking expertise of the Erwin Sattler company and the fine workmanship of the materials inspired us as we were designing the clock," adds designer Philip Schlesinger. "The clock will be a thing of beauty for generations to come."
Although specific pricing information is only available upon request, Erwin Sattler clocks of this type typically sell for upwards of $10k.