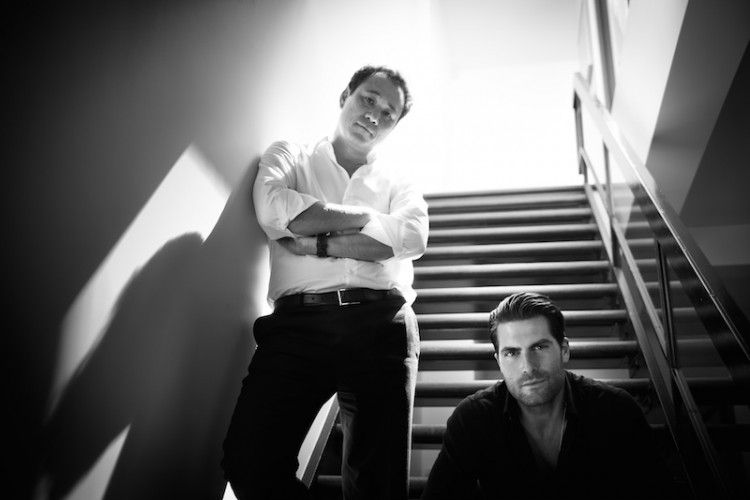 Photos Courtesy of GRADE
To say that GRADE is a full-service architect/design firm doesn't quite get across the enormity of the company's wide range of talents. The partners at GRADE, Thomas Hickey and Edward Yedid, have proven themselves experts in most areas of architectural and interior design, creating townhouses, homes, restaurants, buildings, apartments, lofts, studios, retail spaces, and even furniture. In all cases, Edward and Thomas take a deeply attuned approach when working with clients in order to successfully express collaborative aesthetic ideas. As Thomas said recently, "Design is more than the arrangement of formal elements, it's the recognition of a uniquely articulated experience, informed by practice and innovated by nature."
In my recent interview for JustLuxe, Thomas and Edward discussed their mission and vision of pushing conventional boundaries by infusing a more human approach to their projects. Their focus is to have their work tell a story about the client's lifestyle, thereby creating personal inspirational experiences through their designs.
JustLuxe: First, where were you educated? What were your first design projects? Your first architecture projects? And what did you learn, from both a challenge and a solution perspective, about your abilities?
Thomas Hickey: I have a master's [degree] from Columbia and a Bachelor of Architecture from University of Kentucky. However, I have probably learned the most about design and the profession of architecture while working at Robert A.M. Stern's (RAMSA) office. I also learned a tremendous amount while teaching at Columbia and Parsons.
My first design project was a partition dividing a performance space for an acting school. I had just graduated from Columbia and wanted to try my hand at designing and building a complicated project based on algorithmic logic. I learned my lesson and reverted back to my restrained aesthetic and clear organizational systems that I had developed throughout the years. While at RAMSA, I was part of a team that designed luxurious custom houses for high profile clients and here I learned the principles of architecture that we practice at GRADE.
Edward Yedid: I studied at Parsons School of Interior Design where I received an associate's [degree] in Applied Science while also working at the firm of Noel Jeffrey. I was a junior designer on my first few projects, which were for very wealthy individuals, and therefore was introduced to the most luxurious materials as well as the area's premier millworkers, fabricators and upholsters in the business. These relationships would be essential when becoming a part of GRADE a few years later. What I learned was that good taste was not merely enough; real life experience in design and construction would be an essential part of having a successful firm. Ideas cannot be realized without first understanding how things are made and what they cost.
JL: When I interviewed Richard Meier about his Meyer On Rothschild Tel Aviv project, he said he would now never accept anything where he could not do both interior design and architecture. Do you feel the same? If so, please explain one of your projects where you did both, and explain the challenges and achievements of doing both.
TH: GRADE was formed on the premise that architecture and interior design go hand in hand. I learned about the importance of architecture and interior design during my time at DKNY where the product had to be a part of the architecture to create a dynamic, branded experience.
We prefer projects where the firm spearheads both architecture and interior design as part of [a] holistic approach, [to create] a unified vision, but the firm has and does work with other firms on collaborative projects and takes the challenge head-on. When we collaborate with other teams, we want to make sure the completed design feels consistent throughout.
EY: At GRADE we always recommend our clients to work with us on both interior design and architecture as it generally results in more holistic seamless design solutions. However, there are certain projects that benefit from the expertise of two separate firms—it all depends on the goal of the project and needs of the client. As much as we would enjoy designing a private jet—we would have to work closely with specialty teams, like Gulfstream. Our success would depend on their expertise and experience.
JL: The last link on your website, titled EDGE, you use examples of a diverse range of architectural and design elements that define certain underlying forces of your work and mission. In one of the images, Thomas Hickey states, "At GRADE, our process derives from precedence and we translate references through the evolution of design. Ultimately, we want to provide the end user with a memorable, elevated experience raising their understanding of applied history."
While this quote was associated with the viewing of a modern building, could it also relate to GRADE's architectural process, derived from precedence? Can both of you define your favorite example at GRADE, thus far, of precedence?
TH: The most recent example of our process in affect is the Modern Farm House. Here, we used elements from traditional barns from the region and translated their characteristics into modern forms by using higher quality materials to create a sense of luxury.
EY: A recent example of our process in affect is a luxury residential project at Place 57. Here we used a simple gesture—horizontal banding—as a form of continuity throughout the project, as well as a decorative element that shows up in door details, fabric paneling and custom furniture. Playing with variations in scale, texture and materials, the banding was utilized to bring the project together seamlessly.
JL: I worked with an interior designer for five years who is now at Restoration Hardware. She always used to say that if you put on your design glasses, good design and terrible design are everywhere. She also said that architects and interior designers see everything from a different perspective. Could you comment on these ideas? Do you think you see things differently from others who are not designers?
TH: It's true that designers often "see" things that most people don't pay attention to. In architecture school, we were required to take nude figure drawing classes—not to become still life artists but to learn to see and not just look. Seeing things in a different light is critical [in] our drive to constantly learn about the world through our travels. Much of the success of our design aesthetic comes from what we see in other countries and cultures and how we use them in our designs.
EY: As a designer you learn to look for things that the general public takes for granted—the details. For us, the details are what make a good design. At GRADE, we draw from our own personal, worldly experiences. The more we travel and become more exposed to different cultures and perspectives, the better refined those details become. With every decision we make, from planning the circulation of a space to specifying the type of hinge we use on our custom doors, we are trying to create a unique and unforgettable experience for all that see our work.
JL: On the Edge part of your website, there is an image of Edward skydiving along with the comment that once the hatch opens and you start the dive, it is like God rushing in to say hello. Could that same feeling, a kind of lightness and rightness, be derived from great design? When have you both recently had that feeling of intense satisfaction in your architecture and design lives?
TH: Each project is one moment of a larger investigation. Each time we meet with the client and learn about their needs provides us with another opportunity to practice our design ambitions within the parameters of a specific program. Every part of our process from research, design and execution is always evolving and shedding new light on how we tweak our perspective.
EY: For me the project is not over until it is photographed. The feeling of a well-executed project is one thing, but memorializing it thru the art of photography is a whole other experience, which can easily be shared with the world. Once we receive those final images from our brilliant team of select photographers, I feel completely fulfilled. But as a general rule, anytime you find a solution while designing, there is a special feeling that you earn that cannot be undone. But the final images really bring it home, as they tell the story we had in mind all along.
JL: Thomas commented on the website that, "One of the basic principles with GRADE's design process is expressed in the work of Bruno Romeda: We pride ourselves on creating intelligent environments through clear organization and a reduction of the superfluous." Could you provide an example of how you know when cohesive composition is accomplished?
TH: Our clean aesthetic is derived from an intense process of editing. Our ability to edit is a reflection of a learned instinct.
EY: Our aesthetic is a result of both Tom and my innate desires for clean, organized and elegant solutions. We know we've created the right design when the anxiety dissipates and we start feeling satisfied.
JL: I want to know what you are working right now and what you will be working on in the coming year.
TH: Although we can't announce these projects publicly just yet, the firm is working on two prominent landmark residential conversions in Manhattan with designs that will pay homage to the buildings' heritage while curating a 21st-century luxury lifestyle. We've recently completed NBA star Emeka Okafor's residence in Manhattan, which included custom details to accommodate his tall stature. We're also in the midst of completing a high-end penthouse unit at Place 57 where we completely re-imagined the floor plan and introduced materials in ways not commonly utilized.
JL: I would like to know your favorite books on architecture and design, ones that you carry around with you, either physically or mentally.
TH: My favorite leisure books are novels about places. I am a huge fan of Paul Auster and love The New York Trilogy. I am also a history and theory buff and love to read about how life and the state of societies affect the way architects consider design. Books on Le Corbusier and Ludwig Mies van der Rohe are favorites of mine. These offer insight into their lives, their work and how the evolution of technology shaped their perspective on architecture. Today, technology affects architecture in similar fashion but I am not as convinced yet. Computer programs can generate beautiful forms and there are many talented designers utilizing these to make beautiful projects. It's an exciting time to track the progress through all forms of media.
EY: I enjoy works by and on Christian Liaigre, Shelton Mindel, Jean Royère, Jacques Grange and Joseph Dirand.