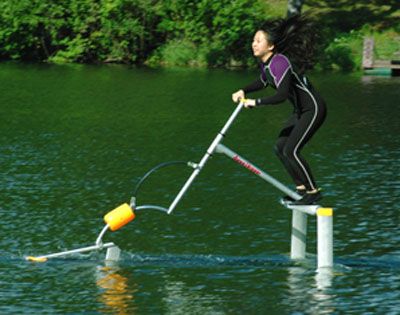 Photo Courtesy of Inventist
While walking on water may be a stretch, it is possible to skip and glide across it for a couple of hours with a little help from this innovative
luxury toy
.
The AquaSkipper can keep you hopping across water like a bouncing pebble with endless energy for about two hours. Leap off the transom or the dock and hit the water without ever really plopping into it. Instead, the gyro sensors within the inventive gadget, which is powered by a 1,000-watt motor, maintain your above-water status. The creator of this water-world phenomenon claims that it is easy to operate.

A video on the manufacturer's website does make it look simple to operate. It runs off your up-and-down energy and a rechargeable lithium battery. Two hours riding time per every 45-minute charge is a reasonable trade-off for such a unique experience; but keep in mind a rider must weigh no more than 250 pounds.


The AquaSkipper is made by the Inventist. The luxury water toy sells for $495.95. Take a look at the Hydroglider as well for a creative water-recreation device. It goes up to 25 mph, lasts up to two hours and recharges in an hour.

This company's scientific inclinations and proclivities, with its self-designed wares, provide lovers of eclectic luxury a gallery of extraordinary gadgetry. In two words or less, cool stuff.

Visit www.inventist.com to see more.