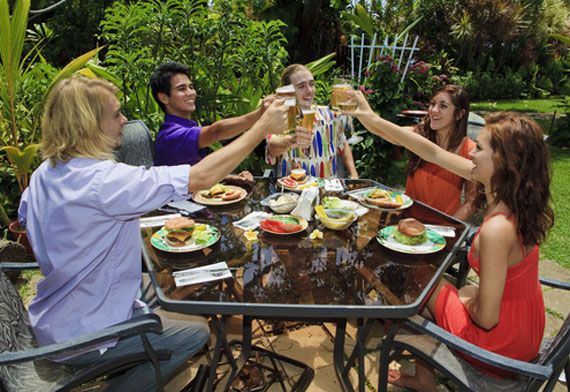 Going green for your next summer gathering doesn't have to mean being boring. In fact, it will most likely up the luxe factor, while eliminating excess waste in the form of tacky paper products. To gear up for summer's season of al fresco shindigs, keep these green tips in mind, whether you plan to celebrate indoors or out.
Before the party even starts, you need to invite your guests. Skip the snail mail and send an evite instead. Plenty of evite sites allow you to customize your invitation so that you set the tone for the party, whether it is an informal get together or a dinner party.
Carry on the paper-free theme by using "real" dishes and silverware in place of plastic and paper. If it's a poolside gathering, you may want to consider using reusable plasticware; but remember that plastic comes with a laundry list of environmental no-no's. Using cloth napkins rather than paper also adds a more upscale twist to any event. And of course, make sure that you provide a recycling bin in addition to the trash bag (made of biodegradable plastic).
A daytime party is the best way to save on electricity, but if you're going for an evening affair, dine by candlelight. Use candles that are natural-based, with soy or beeswax, so that they don't emit toxic fumes and smoke like petroleum-based paraffin candles.
You can brighten up the space by decorating with plants and flowers that can double as party favors for your guests. Also opt to buy local and organic foodstuffs for your green-themed party. Many caterers specialize in local produce and will follow any
eco-friendly
guidelines you set.
If you're going to a green party or planning to have a gift-giving session, shop sites that have eco-friendly trinkets, like ecoist.com, exoticworldgifts.com or ecoexpress.com. When wrapping, use gift bags, especially the non-paper variety, instead of
wrapping paper
so that the packaging is more likely to be reused rather than ending up in a landfill, making your gift green from the inside out. Another great option is BOBO Wrapping Scarves, very useful little things that can be reused for wrapping, or even worn by the recipient!
By following these tips, not only can you help the environment, you may also start an eco-friendly trend this summer.