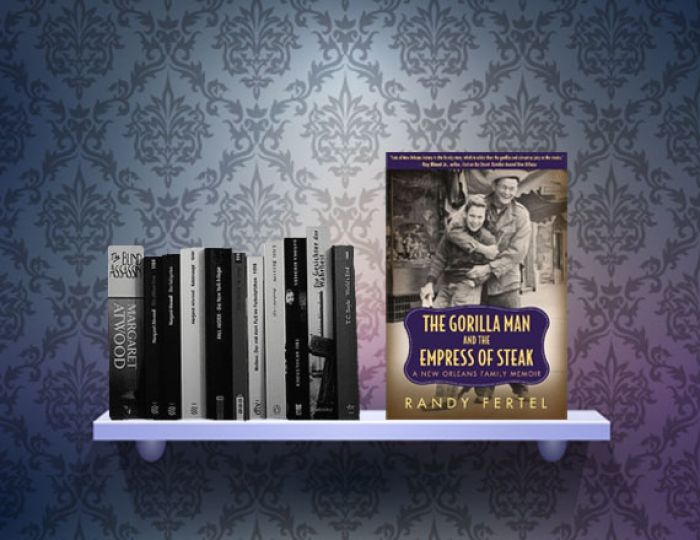 The Ruth's Chris Steakhouse chain has been celebrated in rap songs and is famous around the United States for the massive entrees including steaks rich with butter. With over 100 restaurants around the country, Ruth's Chris is the biggest luxury steak company in the U.S. The story of the legendary founder Ruth Fertel is one best told by her son, Randy, whose memoir is equal parts bitter and sweet.

The legend of Ruth's Chris is a pure Louisiana story full of the rich tragicomedy that runs deep in New Orleans. It's not just a restaurant story, it's also a horse story, Ruth Fertel also had her thoroughbred trainer's license and she and her husband started off in the horse business. Randy Fertel didn't just have one larger-than-life parental unit. His father Rodney Fertel later became famous for running for mayor of New Orleans in a gorilla suit, the gorilla man in the title.

An objective biographer might have made better sense of organizing the narrative and placing Ruth Fertel's contribution to the restaurant world in better context but the fact that this is a son's memoir carries its own power. Fertel is a yarn spinner and he captures New Orleans in vivid sensory detail as he tells the story of a family full of distinctive and often warring personalities. This adds both a richness of detail as well as a certain discomfort for the reader, Fertel's details are often deeply personal, bearing the mark of a difficult and lonely childhood.

For food and business lovers the book really gets hopping in the last third when Fertel unpacks a bit of the Ruth's Chris magic from the sizzling steaks to the perils of expansion. There's also more than enough sour grapes to go around as Randy Fertel details his excommunication from the Ruth's Chris empire and his stilted reconciliation with the mother he loved but could never truly embrace.

The book falters and drags in places but what is never failing is Fertel's affection for New Orleans. As a love letter to the city and the hard-drinking, hard-gambling entrepreneurs that keep it humming, this book does quite well.