Feb. 14th, 2011
Ruth's Chris Boston Sizzles with Flavor and History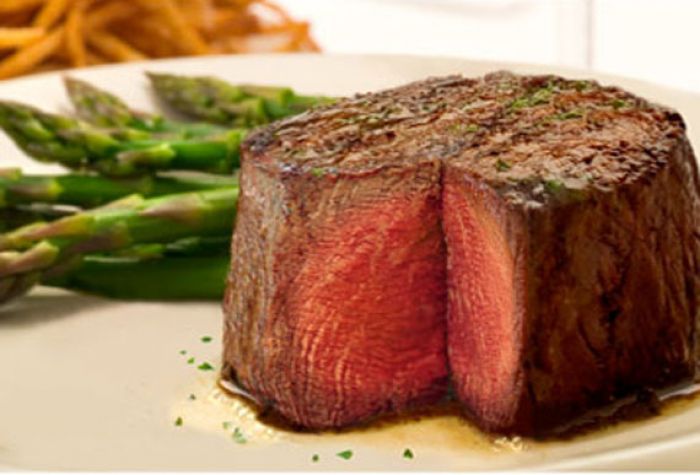 One of the first things you will notice when you step inside Ruth's Chris, located in the historic former City Hall building, is the amazing
architecture
.
The building was designated a National Historic Landmark and previously housed Maison Robert before the restaurant closed its doors in 2004.

The restaurant was jam packed when we arrived on a recent Friday evening. We stopped by the sleek upscale bar Curley's, named after the late Boston mayor James Michael Curley, which was filled with an after-work crowd. There are three levels of dining here, including six private dining rooms (be sure to check out the cool Vault Room) and two outdoor patios. The main dining room is where most diners request to be seated but what some people may not be aware of is the more intimate lower level dining room, complete with a special areas for private dining.


The wine list here is extensive and includes great selections such as a 2007 Robert Mondavi cabernet from Napa Valley and a 200 Villa Mount Eden Grand Reserve Cabernet. We started off with the jumbo shrimp cocktail-four enormously fresh shrimp arrived atop a small bed of greens with vinaigrette dressing, served with a side of their famous New Orleans homestyle cocktail sauce.

The mushrooms stuffed with crabmeat were declared the winning appetizer. The caps overflowed with fresh crabmeat and just the perfect amount of stuffing topped with Romano cheese. You can find some other New Orleans style favorites here, including their famous sizzling blue crab cakes, barbecued shrimp, tempura onion rings, and veal osso bucco ravioli.


There is also a good selection of salads here, which included their famous sliced tomato and onion, traditional lettuce wedge, jumbo chopped salad and a unique harvest alternative made with roasted corn, dried cherries, bacon and tomatoes.

The steaks here are what everyone comes for-sizzling slices of tender beef arrive on 500 degree plates seasoned with just the right amount of salt, pepper, butter and parsley, swimming in a pool of its own juices. The enormous, perfectly marble,d bone-in cowboy ribeye was extraordinarily tender and juicy. The mouthwatering New York strip was just as rich and flavorful. Our friendly server told us the filet is also one of their most popular dishes.


The potatoes au gratin were the perfect complement to the steaks served in a creamy three cheese sauce (we weren't counting calories that night). Don't miss the creamed spinach topped with melted sharp cheddar cheese providing even more flavor. The two broiled tomatoes were lightly dusted with sugar that caramelized on top. The addicting sweet potato casserole could almost be considered a dessert, served with a delicious pecan crust.

If you can save room for dessert, the must-have grand finale is the New Orleans favorite bread pudding served with a creamy whiskey sauce. Other desserts included a tempting caramelized banana cream pie, warm apple crumb tart, chocolate sin cake and cr?me brulee. For added value, don't miss the special prix fixe menu and Restaurant Week specials.

Ruth's Chris Steak House
45 School Street
Boston, MA 02108
617.742.8401
www.ruthschris.com
.

Boston Map

.
.

Luxury Hotels in Boston

.






Kellie K. Speed

Is a freelance travel writer with more than 20 years experience. She provides, travel and restaurant reviews, luxury pieces, product features for magazines such ...