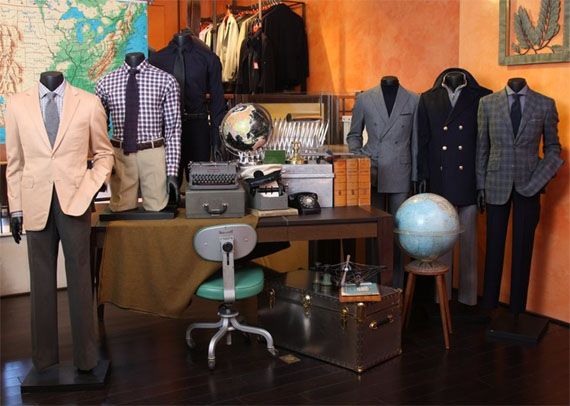 Photo Courtesy of Ascot Chang
We have made a list that you can check twice to buy something for the men whom you think are nice and/or even nicer when naughty...because these
gifts
would be equally fitting for brothers, fathers, friends, and lovers. 
Ascot Chang
This is an asset that pays dividends each time it is worn. Ascot Chang's custom-made shirts are made from the finest Egyptian cotton. Single-needle tailoring, French seams and 22 stitches per inch infuse quality that ascends the wearer to a new level of refinement. Clients can choose from 15 collar types and four cuff styles.  Monogramming comes in eight styles. The only thing better than ordering a custom-made shirt directly from Ascot Chang's website would be to personally visit his stores in Hong Kong, Manhattan, or Beverly Hills.
Hobbs Cashmere
The niche cashmere sweater house has a variety of pop culture icons emblazoned across its fine sweaters. Exclusive collections by Hobbs include Warner Bros. cartoon characters Bugs Bunny and Tweety Pie and Hanna and Barbera's Tom Cat of Tom & Jerry in its Toon collection. The house of limited-edition cashmere sweaters for both men and women has four shops in Paris.
Ian Flaherty
It is the sparkling twists around wrists that add a touch of class. The Ian Flaherty Collection of handmade cufflinks is made of silver, enamel, and crystal. The crystal cufflinks contain Swarovski crystals and are offered in five unique designs and multiple colors, including crystal, fuchsia, jet, sapphire and topaz. All cufflinks by Ian Flaherty are handmade at Flaherty's London-based studio.
Maurice de Mauriac Zurich
These finely crafted Swiss-made wristwatches are by Maurice de Mauriac Zurich. Each wristwatch produced by Maurice de Mauriac is made on a per-order basis. The Le Mans wristwatch is old-school classic with its sporty appearance and colorful NATO straps. Its retro-inspired design captures the essence of Le Mans and its incredible history most dashingly. Like other watches of the Maurice de Mauriac Chronograph Modern collection, the Le Mans is available in three case sizes.  
TwinLuxe
TwinLuxe offers a line of luxury products for men that range from shaving to skincare. Anything that can reduce irritation in their lives on a daily basis would be a gift most men would love. TL's Essentials Gift Set for shaving was the featured men's grooming product in the official Grammy Awards gift bags issued to the presenters and the performers at last year's ceremony held in Los Angeles. "You will get the perfect shave experience with our products. We turn shaving and men's skincare into a fun, rewarding experience. It is like having the entire spa facial, barbershop-shave experience in your own bathroom," said Anthony Tsai, president at TwinLuxe, in an
interview with JustLuxe
, posted in March 2011.