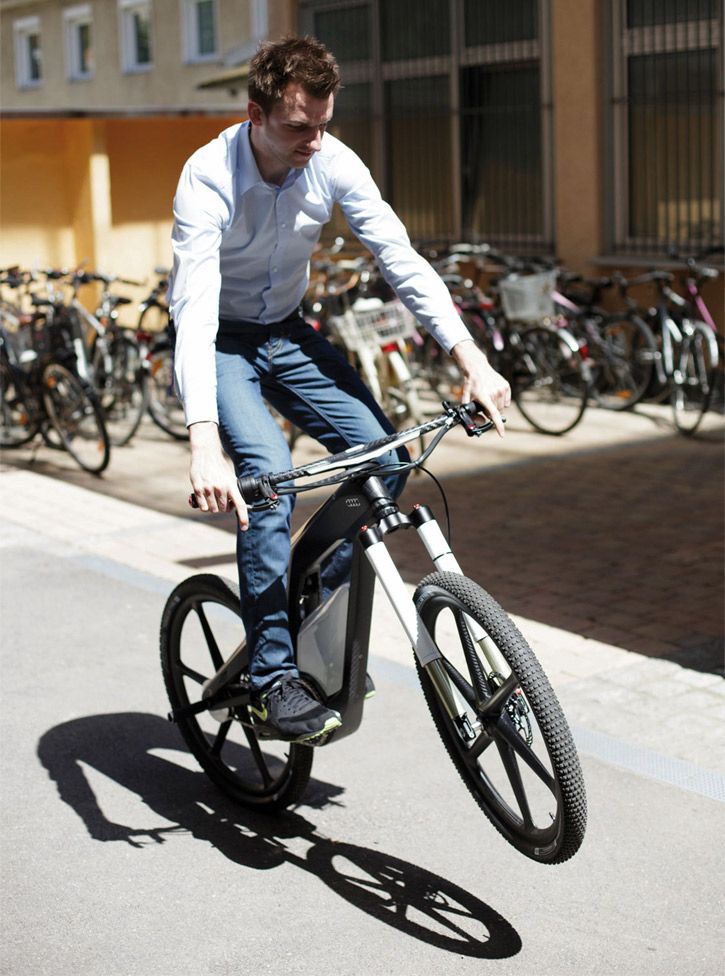 Photo Courtesy of Audi
Electric bicycles are nothing new, but one that can go up to 50mph certainly is. Audi took some time out from making
luxury cars
to debut their new e-bike, the Wörthersee prototype that can do just that, and more, according to
Inhabitat.com
. During its introduction to the public, trial biker Julien Dupont and downhill specialist Petra Bernhard demonstrated the versatility of the 24-pound bike by showing off some stunts.
The carbon fiber-reinforced polymer frame has a low center of gravity to keep it extremely balanced and dexterous. The 2.3kW motor relies on a lithium-ion battery that takes only 2.5 hours to charge completely. The 26-inch wheels are made of the same carbon fiber-reinforced polymer as the frame and contain flat spokes that help achieve peak speeds.
Five cycling modes are easily switched on the touchscreen to suit the cyclist's needs. Pure mode is just like riding a regular bicycle where the power is completely controlled by the pedals; Pedelec mode kicks in the electric motor and sends you into speeds of up to 50mph, traveling a distance of 31 to 44 miles; eGrip has the bike running completely by the motor and able to reach a top speed of 31mph. The rider controls power and movement using a grip shift and the computer; Training mode will ensure an even input of power, with the electric motor still available to trek up hills or against the wind.
If you're ready to slow down and perform some tricks, turn on Power Wheelie mode which beginners can use with adjustable angles or choose Balanced Wheelie for sports cycling. This mode has the electric motor controlling balance during stunts with as it offsets forward or backward movement. Besides riding mode, the on-board computer also displays speed, distance, battery life, energy consumption, and slope angle among other functions.
If these features weren't cool enough, the Audi e-bike Wörthersee prototype can also be controlled via smartphone through its computer system. The rider can set an immobilizer and deactivate it with their smartphone, record video images while riding or completing stunts and transfer the video to the Internet. Unfortunately, Audi is merely calling this a "show bike" so the likelihood that we will be able to purchase this e-bike as is won't be happening as of now, but we're keeping an eye out for it!