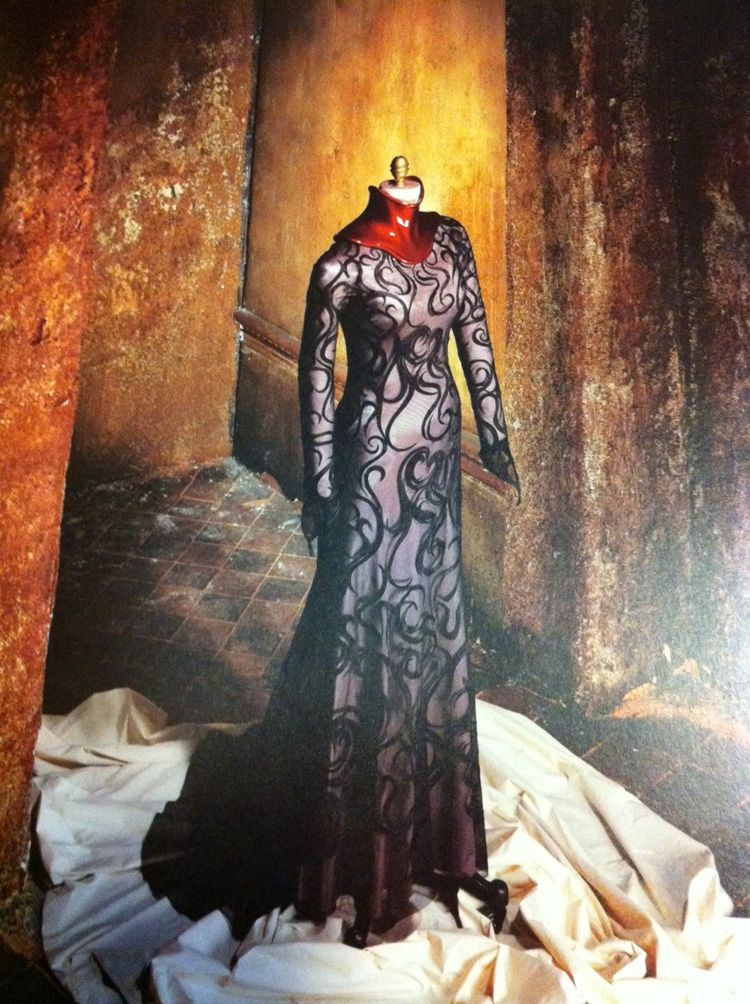 Photo Courtesy of Profiles in History
Profiles in History's newest auction has quite the selection of Hollywood memorabilia, offering up everything from Tom Cruise's
1970 Porsche
from
Risky Business
to Michael Keaton's
Batman
cowl and Michelle Pfeiffer's screen-worn Catwoman suit. With costumes being such an important part of film, it's no surprise that the auction, taking place in Calabasas Hills, CA on July 30-31, has so many iconic ones to choose from. Two of which being Jennifer Lopez's beautiful dress from the psychological thriller
The Cell
and Whitney Houston's stage homage to
Metropolis
in her film
The Bodygaurd
.
Directed by Tarsem Singh,
The Cell
is known for its visual style and the costumes by the late Eiko Ishioka perfectly reflect the film's dual portrayal of reality and the mental dreamscape of the film's villain. Academy Award winner Ishioka worked with Tarsem in his other films
The Fall
,
Immortals
, and
Mirror Mirror
, as well as being known for her work in
Bram Stoker's Dracula
, for which she won the esteemed award for Best Costume Design.
In
The Cell
Jennifer Lopez plays Dr. Catherine Dean, a psychotherapist hired to delve into the mind of a killer in order to ascertain specific information, and the auctioned dress is worn in one of the film's most surreal scenes. The sheer black lace dress is completed with a "metal-flake crimson, anatomical collar" featuring a velcro closure and metal loop in the back. It also comes with a "wraparound metalized resin facemask with hopped, braided chain veil." Part of the Hollywood vaults, this costume is expected to bring in anywhere from $3,000 to $5,000.
The Bodygaurd
is definitely one of the most beloved romances, with Whitney Houston and Kevin Costner starring. Houston plays Rachel Marron, a famous singer, who has to hire a former secret service agent to protect her from a stalker. The "Queen of the Night" costume was designed by Susan Nininger, and was inspired by Maria (the machine-human character) in 1927
Metropolis
, Fritz Lang's classic film that is often looked to as the birth of science fiction cinema. The Art Deco design is made up of a "chromed thermal formed chest plate, a stylized corset with chrome and aluminum accents, a metallic gray undersuit with attached garter straps detailed with metal studs, silver lamé crepe skirt," as well as an Eqyptian-style collar, waist belt, over-the-knee boots, and opera gloves. The look can be seen worn by Houston during a performance of "Queen of the Night" and later in the scene when Costner rescues her from a stage mishap, holding her in his arms, which is the image used in the film poster.
Houston was at the peak of her famed career when she wore this outfit and it would be hard finding another piece of memorabilia that so perfectly sums up the singer's historical life. The costume comes with a letter of authenticity from Chris Gillman and is expected to get somewhere between $20,000 and $30,000.
For more information visit
ProfilesInHistory.com
.