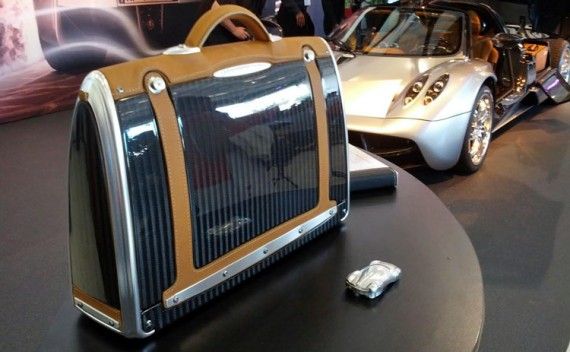 Photo Courtesy of Pagani
The Pagani Huayra has one of the most exquisite cockpits you'll find anywhere, hewn by a team of craftsman who clearly take their time in getting every detail just right. But at $1.4 million apiece, they aren't making a lot of them. So what do these gifted craftsmen do in their down time? You may be looking at the answer.
This gorgeous briefcase is made of the same carbon fiber, leather and aluminum trim you'd find inside the Huayra. While it is obviously made for a different purpose than a
luxury car
, the briefcase does not appear to be made to a different standard whatsoever.
Of course Pagani isn't the only exotic automaker to offer pieces of luggage to match its supercars. It's not even the only one in Italy. However its rivals tend to outsource their bags to specialists. Ferrari, for example, has long had its fitted luggage crafted by Schedoni. Maserati teamed up years ago with Salvatore Ferragamo for its line of custom bags. Dunhill, meanwhile, crafts pieces for Bentley, Tumi made the luggage for the Lexus LFA, and Louis Vuitton outfitted the Infiniti Essence concept. While we couldn't tell you for sure that Pagani made this particular piece in-house, we also couldn't imagine anyone else making a briefcase that looks so close to the Huayra's exquisite interior.
For the uninitiated, Pagani is an exotic automaker based in "supercar valley" in Modena, Italy – just a stone's throw away from Maserati, Ferrari and Lamborghini. Its first product, the Zonda, was a legend in its own right, but the new Huayra takes it to the next level. It's built around a 6.0-liter twin-turbocharged V12 engine with 720 horsepower and 740 lb-ft of torque that was designed and built specifically for Pagani by the engineers at Mercedes-AMG, and is capable of running from 0-60 in three seconds flat and corner at 1.66g on its way to a 225 mph top speed.
For more information visit
Pagani.com