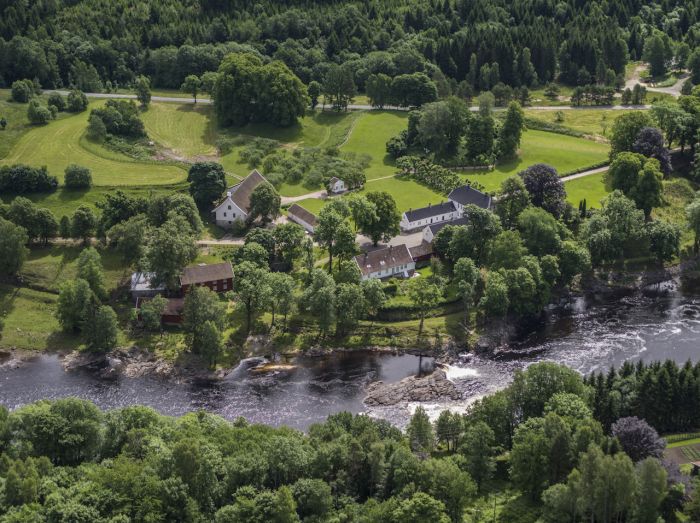 Boen Gaard
It was one of those happy accidents, that in retrospect, was meant to be. I had gone to Norway for two hotel and one restaurant opening. I did not think I would find a historic, somewhat unknown outside of Norway, hunting and fishing estate, built in 1654, that catered to English nobility as well as Danish and Swedish kings and queens, had a wild salmon river called the Tovdal on property, and served some of the best organic meals – all from their gardens—that I had ever eaten.
But there I was in the gloaming, at Boen Gaard, outside of Kristiansand in Southern Norway.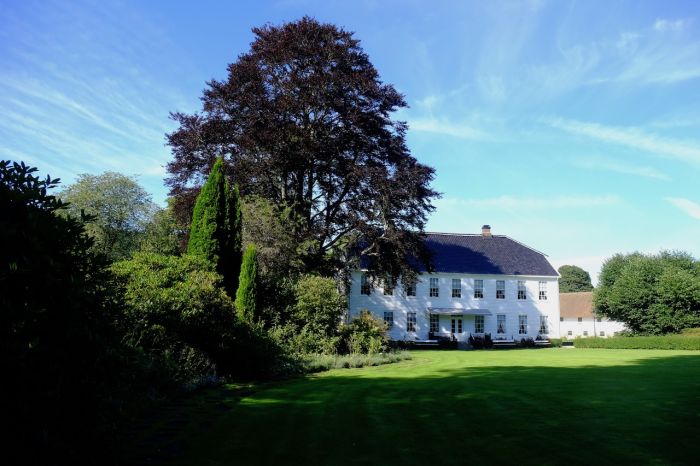 Boen Gaard
I have been to many high-end restaurants, and a few hunting and fishing lodges, but very few encompassed all the benchmarks of well-defined luxury: craftsmanship, history, legacy, and worth. And none were on a hunting and fishing estate founded in the 1600's. Yet, walking through this estate on that late March afternoon in the gloaming, and under a rising full moon, I knew I was seeing something exceptional, where past and present reconnecting, and in every way, defined the meaning of enchantment. And dinner was not even served yet.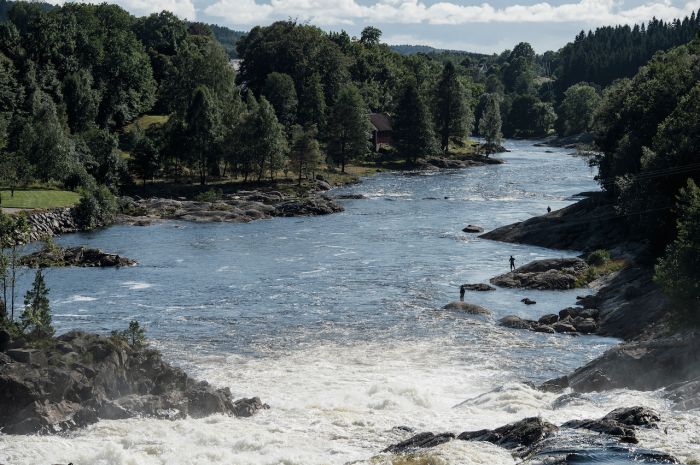 Boen Gaard
The Boen Gaard estate land was once King Christian II's property until the 1600s. It was then sold, and eventually was owned by the Hegermann family throughout several generations. British lords fished for salmon in the early 1900s, just as many do today. Recently, a fisherman caught a 26-pound salmon in the Tovdal river, on Boen Gaard's property.
The current main building was erected in 1813, and the furniture and décor reflects that time period in Norway. But, in contrast, on many of antique polished oak or gray marble tables and writing desktops, there were fresh flowers – peonies, Madagascar jasmine, and rose geranium with aromatic leaves. To my touch and my awareness, there were no plastic flowers or ferns anywhere. As Dagfinn Galdal, the resident Sommelier and General Manager of Boen Gaard said to me, "Everything is real here." So rare, so true, so refreshing.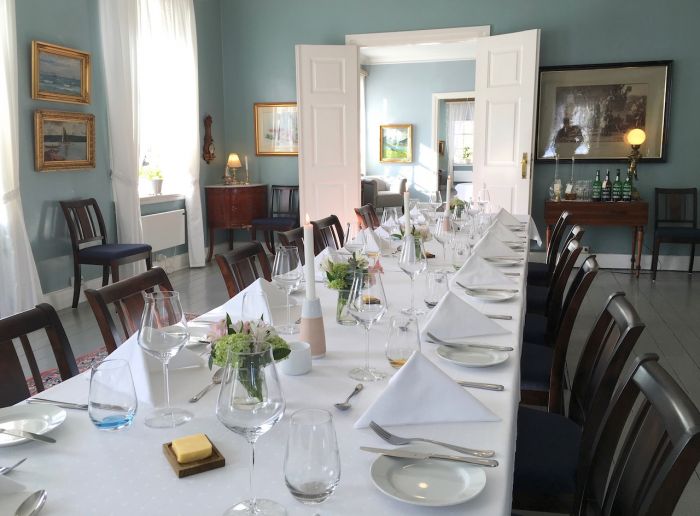 Boen Gaard
The history is real also: standing outside Boen Gaard, the only consistent sound that can be heard is the salmon-rich Tovdal river that rushes noisily through the property. Wild salmon fishing has been in existence at Boen Gaard since the early 1500s. It became, over the centuries, a popular place for salmon fishing known by the English aristocracy, Norwegian explorers, and Danish and Swedish kings and queens. In July of 1891, Oscar II King of Sweden and last Bernadotte King of Norway, plus his entourage, came to visit Boen Gaard. They still have the dinner menu, a 12-course meal, that included salmon, sausage, truffle, smoked reindeer tongue, lamb saddle, vegetables, ice cream and petit fours.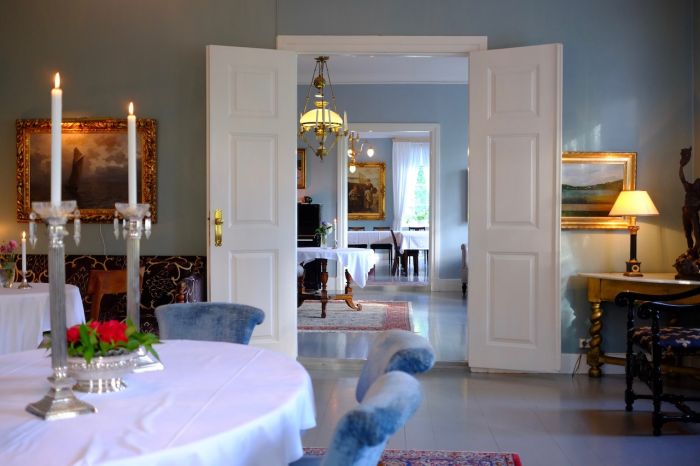 Boen Gaard
So, even back then, the exceptional history of Boen Gaard is inextricably tied to the cuisine, and how it is prepared. The food preparation at Boen Gaard, just as in King Oscar's time, is local and seasonal. Wild salmon is brought from the river – steps away from the kitchens -- and apples, vegetables, berries, herbs, and honey are harvested in their gardens. They produce apple juice and sparkling cider from two kinds of apples, Filippa in their non-alcoholic beverage and home-made cider, and the Seftaholm, used in homemade apple jams, sherbets, and ice-cream. Some Boen Gaard fruit orchards have been in existence since the early 1800's.
Head chef Tomasz Rochon created some exceptional cuisine memories for us on the evening we dined there. Unlike King Oscar's meal, we had fewer courses, thankfully, yet all were dazzling: fresh scallops tartare with trout roe and chives-emulsion; a cauliflower crudité, frisée salad and dried truffle seaweed; fried and baked white cabbage, pickled pear and apple, fresh spinach, celeriac-cream and ramson oil with apple. And, on a platter of coffee beans, a homemade flatbread of emmer flour, smoked cod roe taramasalata and fresh dill. There was also a platter of small beignets filled with chicken liver pate, topped with a red currant coulis. While others drank wine, I drank the apple cider, then a sparkling juice with a raspberry base. "Made from the early raspberries in our garden," said Dagfinn. It was unbelievable, and the scent alone, deep, ripe raspberry, filled the room, and was beyond any culinary expectation or description.
The co-owner of Boen Gaard is Johan Olsen, grandson of the gentleman who purchased the estate back in 1939. Johan and his siblings and their families realized the beauty, history, and cuisine possibilities of Boen Gaard, and started renovation and restoration back in 2010. Right now, the estate allows for eight guests in four rooms. "But in June of 2020," he says, "We will have additional 14 guest rooms, meeting facilities, and a wine cellar-tasting room in the buildings on the riverbank. When renovated, we will be able to have 28 more guests, and in total on the estate, 36 guests."
The desire for such a sanctuary, whose DNA combines legacy, history, and the deep harmonies of garden and orchard, grows exponentially as the world grows more dissonant. With this renovation, more who know about Boen Gaard can experience this estate, where everything is real and will be happily remembered in more complex, often unreal, times.
www.boengaard.no
hovmester@boengaard.no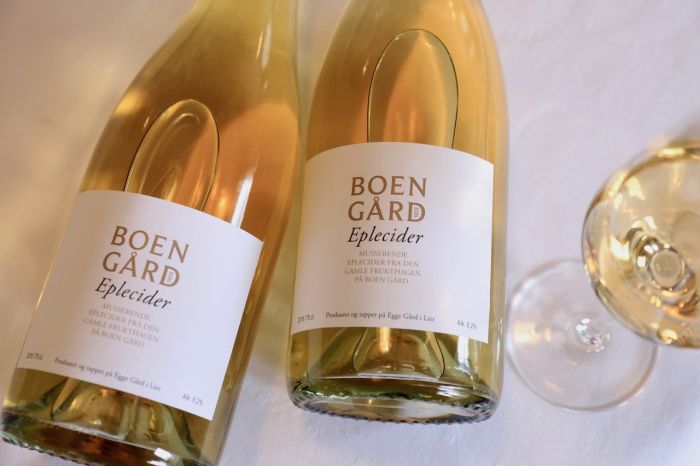 Boen Gaard
Estate Apple Cider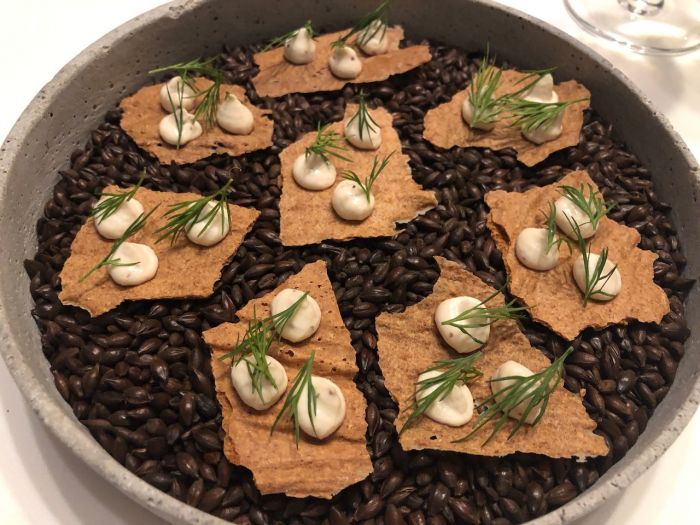 Susan Kime
Smoked Cod Roe on Homemade Flat Bread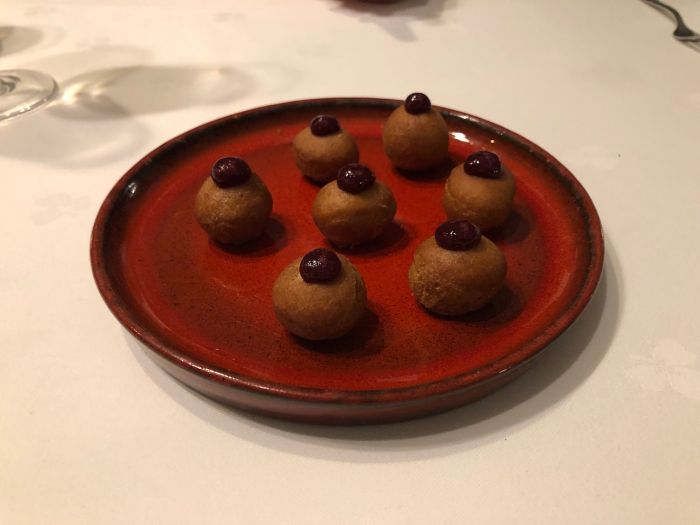 Susan Kime
Beignets stuffed with Chicken Liver Pate
Boen Gaard
Chef In the Boen Gaard gardens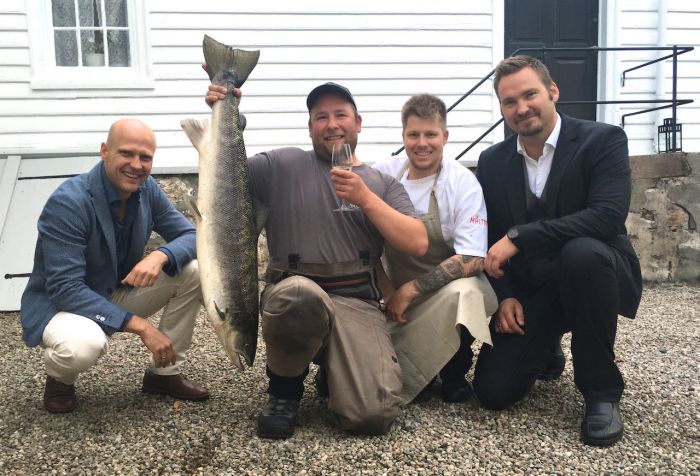 Boen Gaard
26 pound salmon caught by guest at Boen Gaard.