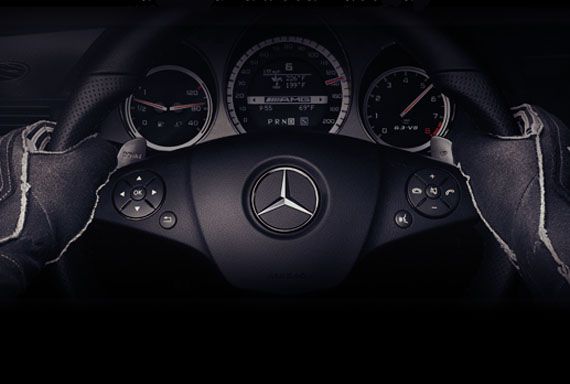 Photo Courtesy of AMG Driving Academy
The AMG
Driving Academy
is offering courses to drivers interested in obtaining a personal understanding of the driving techniques deployed by professional drivers. The experience offered by the luxury automaker is a "hands on the wheel" opportunity to learn the fundamentals of high-performance driving under the tutelage of track-tested racecar drivers. Class sessions and track time are included in the curriculum.
Former Grand-Am driver, TV host and analyst Tommy Kendall hosts a 10-part series, the AMG Performance Series Videos, which was shot at Lime Rock Park in Lakeville, Connecticut. The videos can be viewed on You Tube and at the Mercedes-Benz Facebook fan page. Kendall shares his know-how on a wide variety of topics, ranging from why optimal ergonomic is important to getting the highest level of performance while driving on a track.
The short videos, which are approximately four minutes in length, are entertaining and provide prospective consumers a nice glimpse of what to expect should they choose to book the automotive extravaganza. It is four minutes well spent, as the one-day "Basic" package per driver comes in at $1,595. AMG touts a two-day event at $2,995, and a three-day affair at $3,695 per registered driver.
Attendees will drive various MBZ AMG models, including the king of the product line, the 563-horsepower SLS AMG. Other models at the tracks will include the E63 AMG, the SL63 AMG, the C63 AMG, and the SLK55 AMG.
Along with the Lime Rock Park track destination, the AMG Driving Academy is available at the Road Atlanta track, in Braselton, Georgia, and at the Laguna Seca Raceway, Salinas, California. For more information, visit
AMGAcademy.com
.
Perk: Visit the Mercedes-Benz AMG Driving Academy
Facebook
through September 15, 2011, and register to win a one-day "Basic" package at the Laguna Seca Raceway.
{start-jlvideo}681{end-jlvideo}