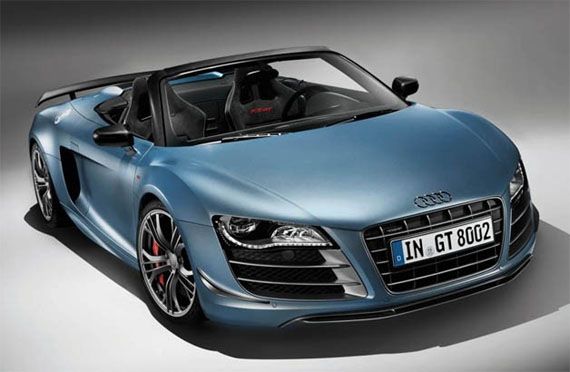 Photo Courtesy of Audi USA
Luxury automaker
Audi
this week announced an MSRP of $210,000 for its limited edition 2012 R8 GT Spyder. A total of 330 vehicles will be made worldwide. Each of the cars will be specially numbered on the gearshift. Fifty are designated for the United States and delivery of the R8 GT Spyder begins this month. 
The German-engineered supercar is lighter and more powerful. The Spyder has a top speed of 197 mph and accelerates from zero to 60 mph in 3.8 seconds. The R8's 5.2-liter V10, with direct injection, metes out 560 horsepower. The vehicle's frame of lightweight magnesium and carbon fiber-reinforced large side and rear panels contribute to it weighing 187 pounds lighter than the coupe. The R8 GT Spyder sports suspension makes it more responsive due to its stiffer calibration.
The 2012 R8 GT Spyder is distinguished from previous models by an enlarged diffuser, a front splitter, and a fixed-rear spoiler. Optional equipment includes a Bang & Olufsen Sound System and an Audi navigational system along with an Audi music interface with an iPod cable.
Audi USA also just reported its 13th consecutive record-setting month of sales with 9,354 vehicles sold in January 2012. The figure represents a 19.7 percent increase over units sold in January 2011. Consumers are sending a strong signal that Audi is at the top of the luxury vehicle market," said Audi of America President Johan de Nysschen, president Audi of America. "I'm optimistic that 2012 will be another pacesetting year." Visit
AudiUSA.com
to learn more.
See more
Top Luxury Cars