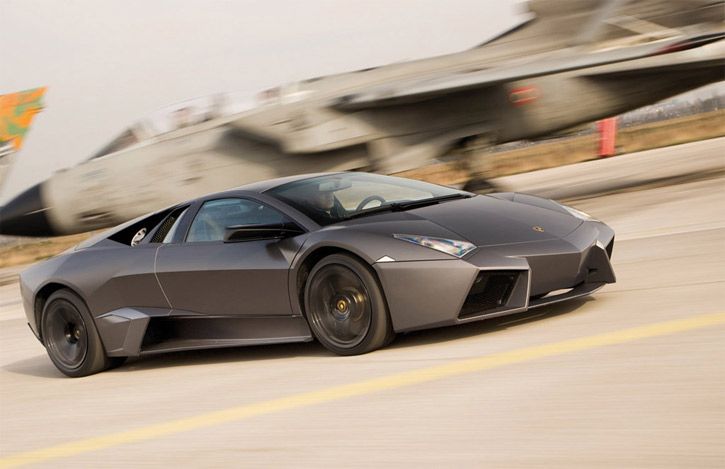 Photo Courtesy of Lamborghini/MotorExpo
One of the
world's rarest supercars
on the planet, the ultra-exclusive Lamborghini Reventón supercar, will be featured in an exclusive H&H Classics sale being held at London's Motorexpo this summer. Expected to achieve more than £1 million ($1.6 million), the Reventón being offered for private sale at Motorexpo was one of only 20 produced, and is thought to be the only example in the UK.
The Reventón was revealed to the public for the first time at the Frankfurt Motor Show in September 2007 and, despite commanding an asking price of €1 million (plus local taxes), all 20 examples were pre-sold. Powered by a 6.5-liter V12 engine producing 650 bhp, the carbon-fiber Reventón can crack the 0-62 mph sprint in just 3.4 seconds and go on to a top speed of 211 mph, ensuring the car has more than enough pace to live up to its stunning F-22 Raptor jet fighter-inspired body.
As part of its 'Supercars and Superclassics' sale, H&H will be presenting an Auburn Speedster replica as well as a number of vehicles from brands such as Ferrari, Pagani, Maserati, and Koenigsegg. "The appearance, let alone sale, of a car as rare as the Lamborghini Reventón is sure to attract a large number of supercar enthusiasts and collectors to Motorexpo this summer," commented Graeme Carver, Motorexpo CEO. "Alongside H&H's impressive catalogue of vehicles a host of car manufacturers will display more than 250 new models. With on-the-road prices starting from less than ?8,000 ($13,000) there will be a car for every buyer."
Motorexpo is open daily in Canary Wharf from 10 a.m. to 6 p.m. Monday, June 11 to Saturday, June 16 and 11 a.m. to 5 p.m. on Sunday, June 17. Entry is free and the show's organizers are expecting more than 425,000 visitors to enjoy this year's event and visit Canary Wharf's 200-plus shops, bars, cafes and restaurants. If you can't make it to London, you can find Motorexpo in Toronto's Brookfield place June 25-29, open Monday through Friday from 10 a.m. to 6 p.m. or in New York City at the World Financial Center September 16-21, open Sunday 11 a.m. to 5 p.m. and Monday through Friday from 10 a.m. to 6 p.m. Visit
Motorexpo.com
to see more.