Mila Pantovich View Profile

Lifestyle Editor | JustLuxe
2012 Vilner Custom BMW F 800 R Predator is Ready For Action
Posted: Jun. 15th, 2012 | Comments 2 | Make a Comment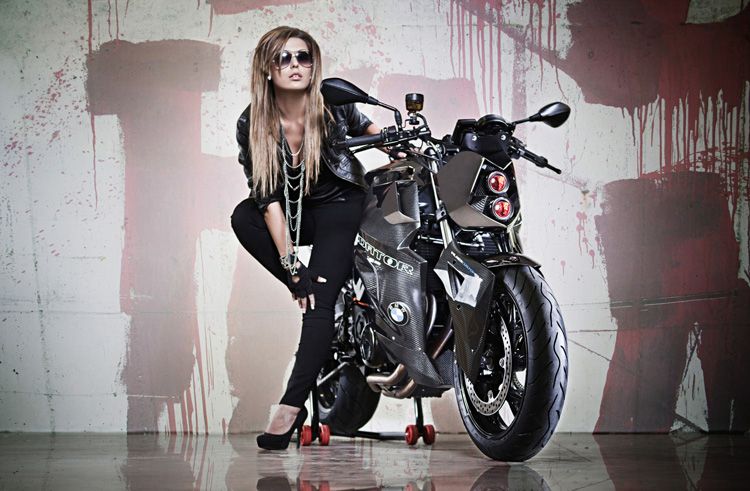 Photo Courtesy of Vilner
If you aren't pleased with the mass-produced base BMW F800 R bike in your garage, why not just hire Vilner, a big name in
luxury automotives
and motorcycles, to custom build one to your liking? That's exactly what a wealthy Russian businessman did. The eccentric client has one of the biggest and varied bike collections in Bulgaria and when he decided that his BMW model didn't have the aggressive predator edge he wanted, he had his own built.
Now the VIP client is the owner of his very own 2012 Vilner Custom BMW F 800 R Predator.

The BMW base model F 800 R has a 798-cumbic four-cycle engine, 87 hp, a six-level gear-box, and is able to reach a maximum speed of 124 mph while weighing around 390 pounds. Though perfectly acceptable for most people, the model had some details that the client just didn't like. For starters, the bike collector wanted to drastically change the headlights, which in his opinion looked like a "WWII mask." He wanted the lights to look more distinguished and needed the motorcycle to have a more openly aggressive sound to go with his new desired image.

It only took the specialists at Vilner six months to come up with the Predator design, create the model, flesh out the details, and finish the bike. 17 changes were made, nine of them carbon and eight chromium-plated, to create the Russian client's brand new luxury toy. The new custom bike is now 25 cm shorter than the base model and has just one seat, made wider, instead of two. The back tire is wider and the previous grey elements are now a sleek black. Even though the bike has the lightness of the added carbon details, due to the customization the bike actually increased in weight by around 14 pounds.

Of course, the Predator was given revamped headlights with bi-xenon and red LED lights, as well as the rear lights and stop lamp. The new exhaust pipe, handmade by a BG partner company, gives the bike a new intimidating aggressive roar that helps it become the dominant machine the client wanted.
For more information visit Vilner.eu
You might like :
Luxury Autos
Related Topics : Bmw, Motorcycle, Lifestyle News