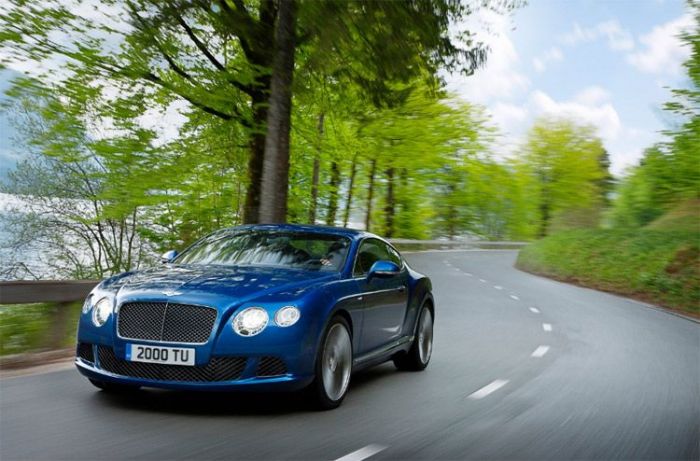 Photo Courtesy of Bentley Motors
The news from Crewe, England this week from Bentley Motors is that its new Continental GT Speed, which is forthcoming in October 2012, will be the
luxury car
maker's fastest production model ever. An upgrade to Bentley's 6.0-liter, 48-valve, four-cam, twin-turbocharged W12 engine enables acceleration from zero to 60 mph in four seconds and a top speed of 205 mph.
The new Continental GT Speed, which will debut internationally this month at the Goodwood Festival of Speed 2012, features a new close-ratio, eight-speed automatic transmission. The new gearbox offers adaptive gear changing as well as providing a 12-percent improvement in fuel-efficiency and emissions of carbon dioxide.
"For nearly a decade, the Bentley Continental GT has defined high luxury, high performance grand touring and the unique W12 engine has been so successful that Bentley is now the world's largest producer of 12-cylinder engines," said Wolfgang Dürheimer, chairman and chief executive of Bentley Motors. "The new GT Speed with its harder-edged, sportier character reaffirms this pinnacle positioning and continues to broaden the worldwide appeal of the Continental coupe."
Bentley says that its new vehicle offers a sportier and more engaging driving experience with tauter handling and improved agility. The sculpted coachwork of the Continental coupe is subtly enhanced with the dark-tinted matrix front grille, lower air intakes, and the 'rifled' finish to the exhaust tailpipes.
The handcrafted cabin features the vaulted Mulliner Driving Specification as standard as well as a number of signature speed design cues that combine luxury and sportiness. The Goodwood Festival of Speed 2012 runs from June 28 to July 1, 2012. For more information, visit
BentleyMotors.com
.