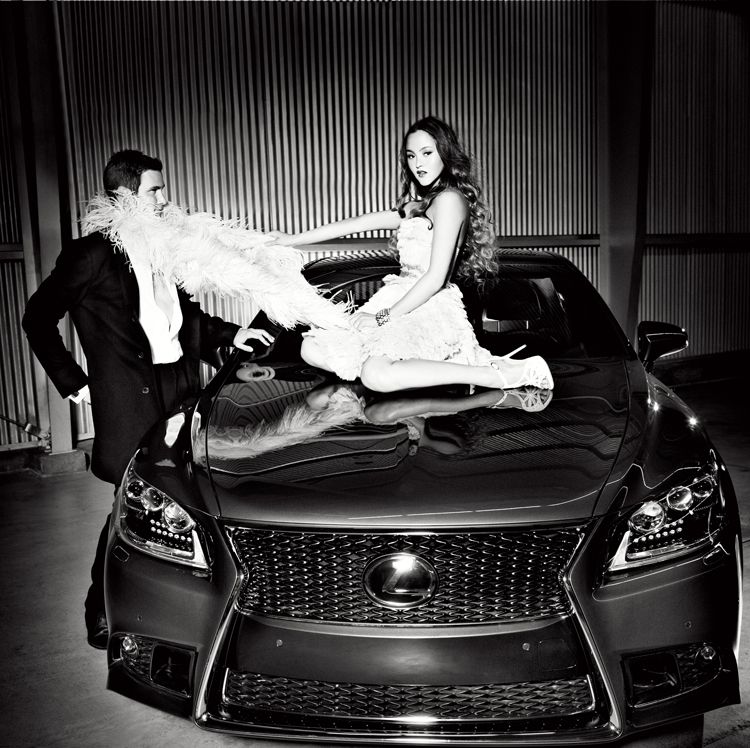 Luxury Sedans
yesterday in San Francisco at the "Lexus Laws of Attraction" exhibit. Drawing in over 500 invited guests, the show was filled with famous faces and a look at the beautiful autos, including the LS 460, LS 460L, LS 600hL hybrid, and the very first LS 460 F Sport.
The LS 460 F Sport was the show's flagship car and boasts a far more assertive look to the exterior, especially with the angles and lines of the body. The car's sport interior has seats with bigger bolsters, a steering wheel wrapped in leather with paddle shifters and aluminum trim. "With a sport tuned air suspension that has been lowered 0.4 inches, a Torsen® limited slip rear differential (RWD model), Brembo six-piston caliper brakes, and 19" forged wheels with summer or all-season tires, the LS F SPORT promises to be the most engaging LS ever."
The rest of the new lineup promises fresh style and an enhanced bold spindle grill that helps bring the autos a more aggressive when look out on the roads. The LS also has higher body rigidity, aiding in greater stability and a smoother ride. "Pitch and bounce control has been enhanced by adopting new frequency dependent shock absorbers, resulting in an even flatter, road-hugging ride," Lexus promises. The luxury sedans feature updated steering that brings greater accuracy and turn-in response, as well as an adjusted breaking system that brings the driver more power at quicker rates, while the pedal supposedly even feels better under foot.
Safety enhancements
are a pretty big deal and with technology advancing by the minute, luxury car companies are sparing no expense to ensure as safe a drive as possible. Lexus has included the advanced Pre-Collision Safety (A-PCS) system with Collision Avoidance Assist to their newest additions. The program helps you to avoid hitting other cars (and even pedestrians) while traveling various speeds on city streets and highways. If a collision is unavoidable, the system is programmed to bring a reduced collision, lowering the danger. If you're moving at under 24 miles per hour and in danger of a crash, the LS will just stop completely.
Inside the vehicles you'll be wrapped in comfort with the help of Lexus' Climate Concierge. The system is customizable and uses many sensors to regulate the temperature within the car, as well as the seats and heated steering wheel. Once you're warm and toasty, the navigation system will help you get to where you need to be. The system is on a 12.3-inch, split-screen, multi-media display and is big enough that you can check your directions while other vehicle functions remain onscreen.
The "Lexus Laws of Attraction" event featured large photographs taken by famous fashion photographer Ellen von Unwerth, the images depicting well-known couples (including actor Jason Schwartzman and his wife Brady Cunningham, Art & Design Director of TENOVERSIX boutique) posing with the LS F Sport. Of the other couples were actress/model Jaime King and her film director husband Kyle Newman, model actress Devon Aoki and her husband James Bailey who is a financier, and the show's creative directors, designer Jonathan Adler and Simon Doonan (writer and Creative Ambassador for Barnyes New York). Aside from Unwerth's photos, the exhibit also included work by photographers Victor Demarchelier, Bronques, and many street-style photographers.
"The 'Lexus Laws of Attraction' photography exhibition showcases Lexus' dedication to design," says Mark Templin, Lexus group vice president and general manager. "Craftsmanship is at the core of the company's design philosophy, which is expressed in our new spindle grille and driver-focused interiors that integrate modern refinement and intuitive technologies. Aligning with the unparalleled creative duo of Simon Doonan and Jonathan Adler was a great opportunity for us. With our passionate commitment to world-class craftsmanship and now a relentless pursuit of style and design, people can't help but be attracted to the new LS."
For more information visit
Lexus.com
.