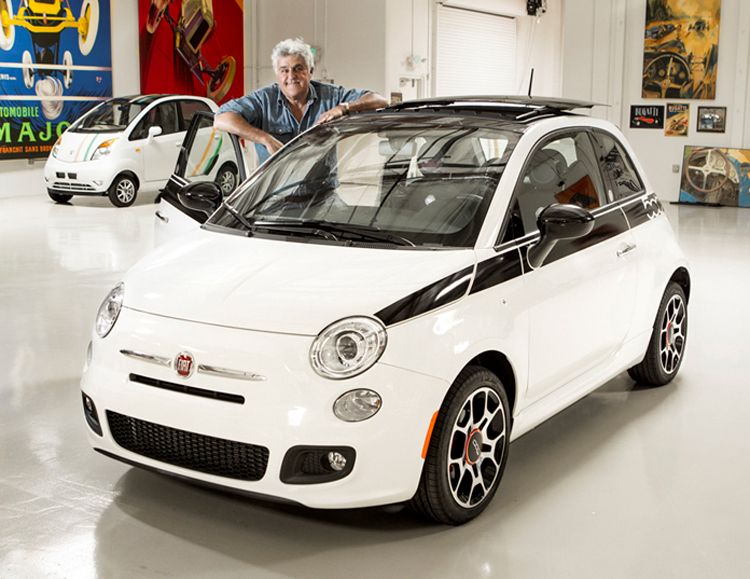 Photo Courtesy of Gooding & Company
With the Pebble Beach Concours d'Elegance happening right now, we've been seeing a lot of impressive luxury autos being auctioned off by the event's official auction house Gooding & Company. We most recently told you about
George Clooney's Tesla Roadster
and now we're adding Jay Leno's 2012 Fiat 500 "Prima Edizione" to the list of neat cars up for grabs at the world famous auto event.
Leno's early collector's edition Fiat 500 will be auctioned on Saturday, August 18, 2012. The Emmy Award-winning host of
The Tonight Show
is known for his vast personal collection of luxury cars, showing off his shining babies any chance he gets on his talk show. The lucky winning bidder will get a tour of Leno's garage, getting a chance to check out the celebrity's wheeled menagerie personally.
With less than 1,000 miles on the speedometer, the "Prima Edizione" is number 2 of 500. It features a 1,368 Inline 4-Cylinder Engine, 101 BHP at 6,500 RPM, and a 5-speed manual transmission. It has "MacPherson strut front suspension with coil-over dampers" and "torsion beam rear axle with coil springs and telescopic dampers."
The car is expected to bring in anywhere from $25,000 to $35,000 and the proceeds will be used to support Fisher House Foundation, a cause that Leno selected himself. Fisher is a four-star, non-profit organization that helps wounded American soldiers and their families through providing support and various services. The organization strives to make a difficult time a little less stressful by lifting some of the financial burden soldiers and their families often feel.
"I'm thrilled to present our friend Jay Leno's first edition Fiat 500, one of the most talked about modern cars in our automotive industry today," says President and Founder David Gooding. "We have great admiration for Jay and hope that the sale of the 500 attracts a great deal of support for Fisher House, an extraordinary humanitarian organization that generously champions our soldiers and their families."
Fisher was founded in 1990 and is more widely known for the homes they provide onsite at military medical centers, giving families a comfortable place to live while their wounded loved ones receive medical aid and rehabilitation. The homes are quite large, ranging from 5,000 to 16,800 square-feet, and house multiple families in the available 8 to 21 suites.
"We're grateful to Jay Leno for his exemplary and unwavering support of our military families, to help them when they need it the most," says Ken Fisher, Chairman and CEO of Fisher House Foundation. "Knowing Jay's passion for cars, and what this one represents to him, we recognize that he is sacrificing something special for what he believes is a greater good. All of Fisher House and the families we serve thank him deeply."
The auction will be located at the Pebble Beach Equestrian Center and will begin at 6:00 p.m. Tickets can be bought onsite for $40 and a purchase of Gooding & Company's Pebble Beach Auctions catalogue for $100 will come with an admittance of two.
For more information on Leno's Fiat and the Pebble Beach Auction visit
GoodingCo.com
.