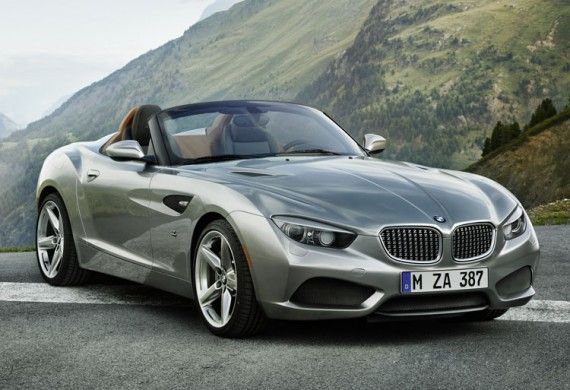 Photo Courtesy of BMW
Back in May, BMW wowed the crowds at the Concorso d'Eleganza Villa d'Este (they were also title sponsors) by unveiling the stunning Zagato Coupe concept. A re-imagination of the Z4, the show car was designed along with Zagato, the famous Italian design house from which it takes its name.
The thing is that the Z4 is a roadster first and foremost, so given the overwhelming response the coupe concept received on the shores of Lake Como, BMW has returned with the Zagato Roadster concept you see here.
Unveiled at the
Pebble Beach Concours d'Elegance
that bookends the summer that Villa d'Este kicked off, the Zagato Roadster was conceived and born in just six weeks' time.
Like the Zagato Coupe on which it is based, the Zagato Roadster blends some signature design elements from both brands into one rather dynamic shape. Hand-crafted from aluminum, the form stretches back tautly from its BMW signature twin-kidney grille, aggressively angled headlights and air intakes, over a long bonnet to a swept-back windshield. The Coupe incorporated Zagato's signature double-bubble roof (originally crafted to accommodate a racing helmet in low-slung classics) which melds into a sweeping Kamm tail that subtly lifts off the back. The Roadster of course has an open cockpit – although the double-bubble design is incorporated into the rear deck cowling.
The Coupe's metallic red paint has also been replaced by a liquid-finish silver shade, which plays deliciously with the two-tone black and  brown leather cockpit. The Z logo is embroidered into the interior and embedded into the flanks behind the front wheels.
Based as it is on the sDrive35iS model – the sportiest and most powerful of the Z4 range – the BMW Zagato Roadster packs a turbocharged 3.0-liter six, but tuned from 335 horsepower stock to a round 400.
Unfortunately, this remains a one-off show car at the moment, but we wouldn't be surprised to see some of its design elements incorporated into the next Z4 model in the future.
For more information visit
BMW.com