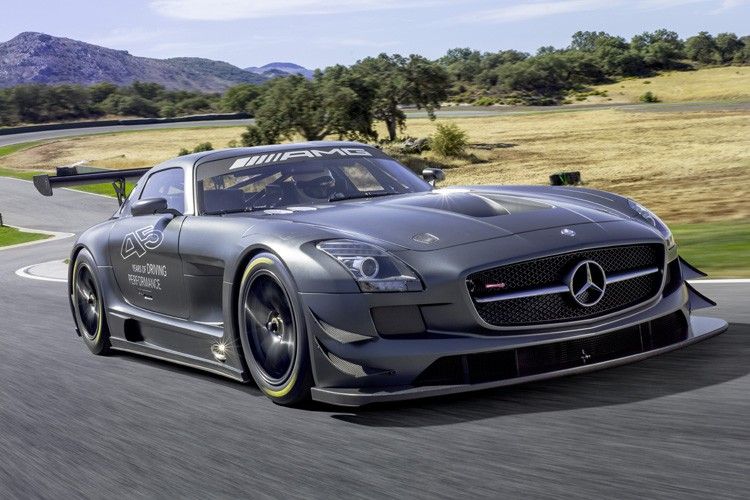 Photo Courtesy of Mercedes-AMG
Spending six or seven figures on a luxury car may be a purchase most of us can only dream of, but the fact of the matter is that, with ever-constricting regulations and traffic congestion, those who do spend that kind of money rarely have the opportunity to really enjoy the capabilities of their new toys. Hence the rising popularity of track cars.
Bridging the divide between road cars and race cars, track cars are designed to be enjoyed by private customers on closed circuits. The best part is that, with little in the way of regulations to govern what can be driven on a track, the sky is the limit on track cars, resulting in near-racing levels of specification serving no purpose other than pure, unbridled enjoyment.
It's that narrow niche which Mercedes' performance division AMG is catering to with this special-edition SLS. Following the recent update to the SLS AMG GT and the introduction of the SLS Electric Drive, this special edition helps AMG celebrate it's 45th anniversary.
The vehicle is based on the race-spec SLS GT3, but decked out in a special shade of matte graphite with the words "45 Years of Driving Performance" emblazoned on the doors and hood.
Underneath the matte finish, the bodywork is all crafted from lightweight carbon fiber. Its 6.3-liter V8 engine has been installed by Mercedes racing driver and DTM champion Bernd Schneider (under the supervision, of course, of an AMG technician).
Only five examples will be made, each selling for €446,250 (including Germany's 19 percent value-added tax), equating to to approximately $580,000. Now that's one expensive toy indeed.