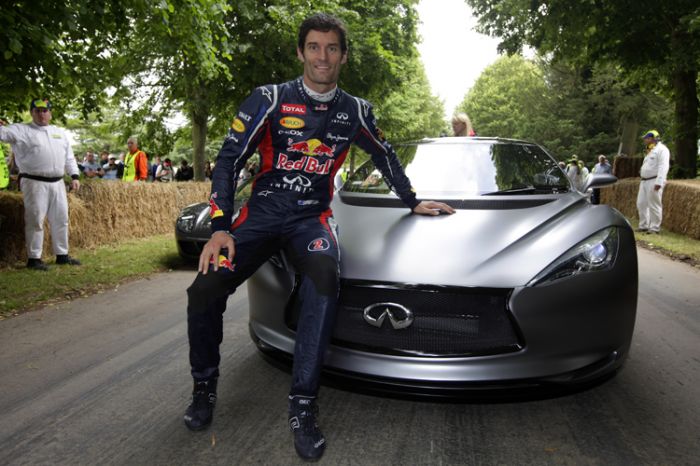 Photo Courtesy of Infiniti
When you think of an electric car, luxury and high-speed doesn't exactly spring to mind. Economical perhaps, but sexy? While this might be true for some, the new offering from
Infiniti
, the Emerg-E, certainly breaks the mold.
The new concept sports car challenges tradition by offering a luxurious, fast driving experience and zero emissions capability. It combines all of the ingredients you would expect of a high-end sports car - with its smooth exterior, wing-shaped door mirrors and fast acceleration.
Infiniti launched their electric mid-engined sports car Emerg-E at the Geneva Motor Show this year. As a concept car, only three units have been manufactured. Drivable prototypes were demonstrated during Goodwood Festival of Speed 2012 when Red Bull Racing Formula One driver Mark Webber took to the wheel and sped around the track to show off its handling capability.
It delivers fast, constant speed. The 1.2 liter petrol internal combustion engine powers a generator and the electric battery sees the vehicle reach top speeds of up to 130 mph. We also love that the performance of this car isn't hindered by its electric technology – it weighs only 1600 kg and it can achieve 0-60 mph in less than four seconds.
Although many electric cars come with the concerns of battery life, the Emerg-E delivers range-extended technology and can reach up to 300 miles. And if you're worried about time then you'll love the fact that a quick thirty minute charge powers 80% of the battery.
You'll also love the carbon fiber, aluminium exterior because it just screams extravagance and although you might not want to drive it off road, the paint work is even weather resistant.
With many countries around the world demanding lower emissions, it seems the Emerg-E is definitely a glimpse of what is to come. Sustainable, high performance cars are real, and they're coming.