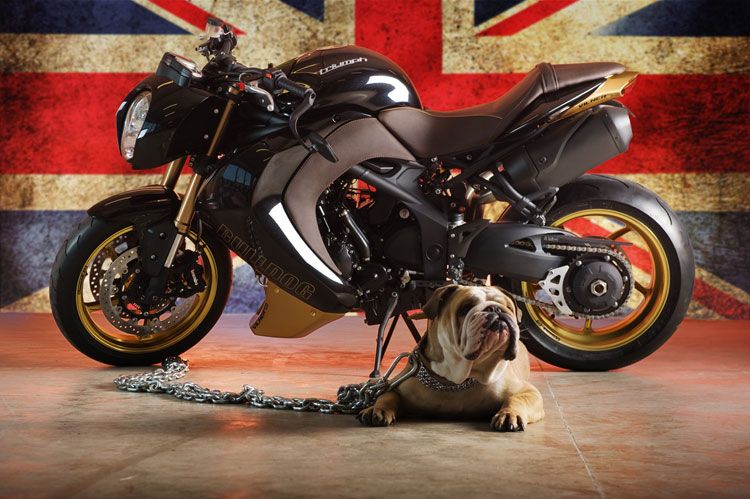 Photo Courtesy of Vilner
To some (Russian oligarchs for example), naked just isn't quite good enough. In motorcycle terms, a 'naked' bike is a sports bike whose fairings have been removed. A style popular since the 90's, riders would remove this part of the bike on their own. The Triumph Speed Triple was one of the first factory produced bikes to appear on the showroom already featuring this look. Triumph, a British motorcycle company, hasn't changed the style of the Speed Triple much since its 1994 inception, meaning clients are relatively pleased with its appearance. Well, maybe except for one. Luxury aftermarket specialists, Vilner, have gotten their hands on this British classic and tweaked it cosmetically to produce the high-end Vilner Triumph Bulldog.
Mostly specializing in car customizations, Vilner has just recently begun turning their focus towards motorcycles, such as the BMW F 800 R Predator. The Bulldog was designed for one of their Russian customers and the Bulgarian company's aesthetics are clearly reflected in the end result. The two bug-eyed headlights have been transformed into one larger bulb, and the handle-bar mirrors have been lowered beneath the bars for a sleeker, more modern feel. The chrome exhaust has been painted a matte black and the new OZ racing wheels have color accents. Does the seat, now trimmed in rich brown leather along with part of the gas tank, make for a smoother ride? It definitely looks like it might.
Vilner tuners visually adjusted the sports bike to give it a more aerodynamic, massive look – hence the bulldog name. The cosmetic tailoring and trimming has not affected the bike's original mechanical aspects, like its 130 hp inline 3-cylinder engine. The Bulldog comes in several color combinations, like gold, red, green, and blue. Except for the lower body, wheels, forks, and taillight housing, the body is powder black.
At a glance, the Vilner version is like the Triumph's flashier Russian cousin, the one who can actually afford the James Bond lifestyle. The detailing is meant to be characteristic of a bulldog's weight and aggression, but with a 1050 cc engine and a top speed of 150 mph, the bike will be a lot quicker on its feet. The Speed Triple is listed at $12,799 MSRP but the price of the Vilner Triumph Bulldog is unreleased.