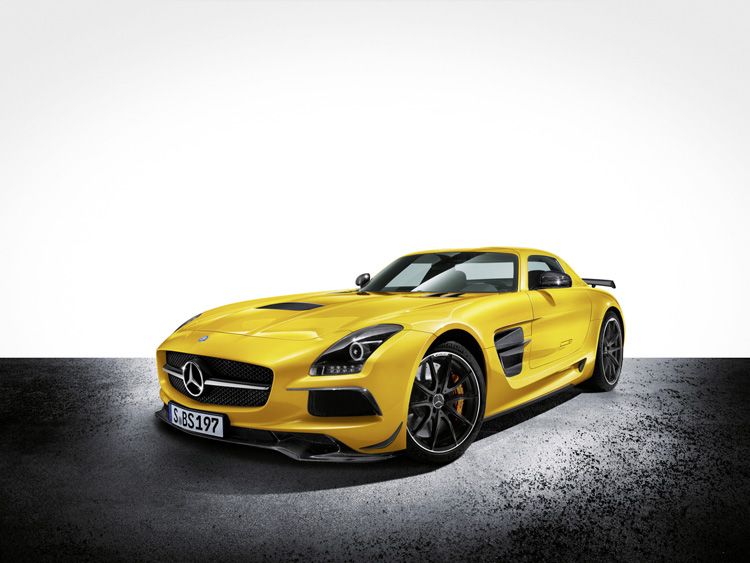 Photo Courtesy of Mercedes
Mercedes-AMG presents its fifth model of the Black Series with the extreme version of the SLS, the 2014MY SLS AMG Black Series. The inspiration behind the luxury car stems from the SLS AMG GT3 racecar. The AMG 6.3-liter V8 engine metes out 622 hp at 7,400 rpm, and accelerates to 60 mph in a pulsating 3.5 seconds. The luxury automaker announced that the 2014MY SLS AMG Black Series will be in the U.S. by summer 2013.
"The new SLS AMG Black Series is a perfect study in the one-hundred-percent transfer of technology and engineering from motorsport to road," said Ola Källenius, chairman of Mercedes-AMG GmbH, in a prepared statement. "We have drawn inspiration from the worldwide success of the SLS AMG GT3 customer sport-racing car on both a conceptual and a technological level. Boasting numerous lightweight components and fascinating dynamics, our fifth Black Series model guarantees pure, unadulterated 'Driving Performance.' The SLS AMG Black Series is the ultimate choice for fast laps and a highly emotional experience."
 A power-to-weight ratio 5.49 lb./hp is achieved due to the vehicle's curb weight of 3,417 pounds. The vehicle is peaked by AMG's adaptive suspension, ceramic two-piece brake system, forged light alloy wheels, a rear axle differential lock, and a seven-speed sports transmission. 
 The AMG Aerodynamics package further boosts the vehicle's handling and dynamics. The Black Series also includes the European model 2006 SLK55 AMG, the 2008 CLK63, the 2009 SL65 AMG, and the 2013 C63 AMG. 
Check out:
Top Sports Cars for 2013 | From Aston Martin to Lamborghini
!