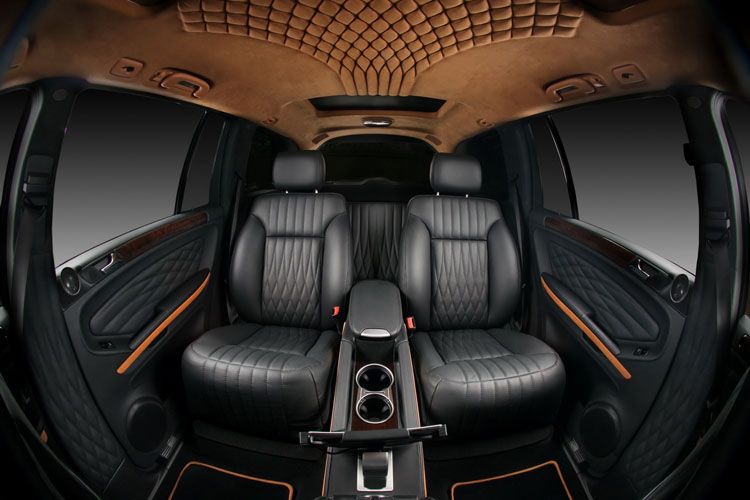 Courtesy of Vilner
With such an outstanding reputation for
luxury cars
, it's often hard to find something to change in a Mercedez-Benz vehicle, but leave it to Vilner and an unknown customer to find room for improvement. The Bulgarian interior specialist's Your Style Inside team wanted more luxury within the
Mercedes GL
and they apparently get what they want because the new model is a spacious four-seater with a high-end sound system and an insulated interior.
One of the problems the anonymous customer had with the GL was that it seated seven and he desired a more spacious four-seat arrangement. According to
Vilner
, the customer was looking for an "individual engagement in his Mercedes, for luxurious recreation according to his wishes and visions. His wish was a 4-seater oasis, where one doesn't feel the road, immersed in a world filled with high-quality music, relaxing and not feeling the space."
Enter Vilner and their Style Inside team and exit the third row of seats (although it seems like those extra seats could be brought back in if the owner wishes). The second row was substituted with two front GL throne-style seats that gives the passengers limousine-like leg room. If that wasn't enough, the company then installed a center console as an extension of the front console. An aluminum pillar was added on the top, capable of rotating in all directions, specially designed for the iPad. The whole cab was covered with a soundproof material that works to keep outside noise from intruding within and ambient lighting was installed. A light-brown Alcantara was used for the headliner and if the relief color pattern seems familiar to you, it's because it was borrowed from the Bugatti Veyron.
The outstanding new audio system was put into the trunk and fine-tuned so the rear two occupants will feel the full power of the "4-volume audio system, two subwoofers, three amplifiers, (two 4-channel and 1 mono-block), audio processor Audison, 31-band equalizer TSP." What's even cooler is that the entire sound system can be controlled by the iPad, making arguments over who controls the music that much more interesting.