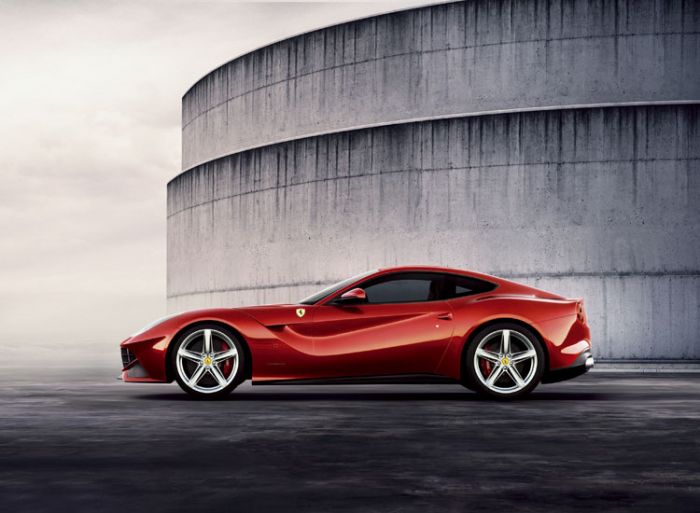 Photo Courtesy of Ferrari
As we know, Hurricane Sandy ripped through the Northeast causing extensive damage and displacing many families and businesses. Cleanup and recovery is expected to be a lengthy, expensive project and help will be needed from just about any and everywhere. One of the businesses affected by the storm has decided to contribute to relief efforts by auctioning off a car and donating the proceeds to the victims. The company just happens to be famed
luxury car
manufacturer
Ferrari
and the car up for grabs is the intensely coveted 2013 F12Berlinetta.
The Italian sports car makers, known worldwide for its Prancing Horse logo, and long a symbol of wealth and luxury, are joining together with the American Red Cross to assist victims of Hurricane Sandy with the sale of its highly prized F12Berlinetta. It is Ferrari's fastest, most powerful street-legal car to date and will go up for auction at the Formula 1 United States Grand Prix in Austin TX. It will not be available for purchase in the U.S. market until the second half of 2013 making it a very exclusive ride indeed. The F12Berlinetta was debuted at the 2012 Geneva Motor show and showed here in the U.S. at the Concours d'Elegance of Pebble Beach earlier this year with a base price of $315,888 MSRP.
With its North American headquarters located in Englewood Cliffs, NJ, the business felt the need to offer help to neighboring families. Marco Mattiacci, CEO and President of Ferrari North America, says, "Here at Ferrari, we have experienced and seen the devastation that Hurricane Sandy has caused in the affected area first hand. We want to use our event next week at Formula 1 in Austin to give back to our local community by auctioning the F12Berlinetta."
The Ferrari organization is accustomed to providing worldwide charity relief through the sales of its high-end cars. In May of this year, the company raised $1.8 million to help the victims of an earthquake in the Italian region of Emilia Romagna by auctioning off a 599XX EVO. And almost $1 million was raised through the sale of a Ferrari FF to aid those affected by the tsunami in Japan. The sale of the F12Berlinetta will be Ferrari's first time assisting natural disaster efforts in the U.S
Already touted as the 'most powerful production car in the history of the Prancing Horse' the F12Berlinetta produces 730 hp at 8,500 rpm. Its owner will have no excuses for being late as it can accelerate from 0-100 in 3.1 seconds and has a top speed of over 210 mph. It houses a 200-bar, direct-injection 6,262cc V12 engine. I assume this is a good thing. A maximum power output of 740 CV at 8,250 rpm and a specific output of 118CV/l is a record for this kind of engine.
Ferrari North America is the exclusive North, Central, and South American importer of Ferrari vehicles. Based in Italy, the company produces notoriously fast and expensive sports cars. Originally designed for racing and still heavily involved in Formula 1, Ferraris are available now for consumer purchase.
The auction will take place at 8 p.m. on November 17. If you cannot make the event, you may contact your local Ferrari dealer to arrange for phone bidding. And donations can always be made through the Ferrari/ American Red Cross collaboration page at
American.Redcross.org