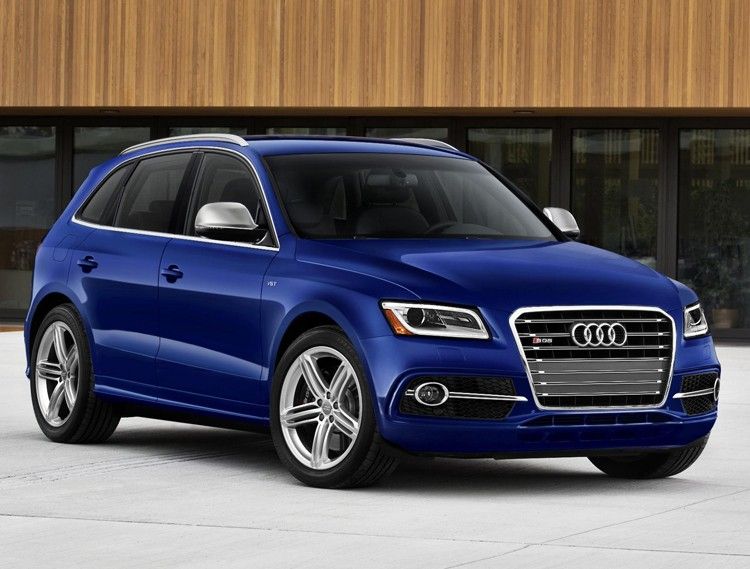 Photo Courtesy of Audi
There are some rather high-performance, luxury car crossovers on the market these days, and most of them come from Germany, but most of them are pretty big. We're talking about the Mercedes-Benz ML63 AMG, the BMW X5 M and the Porsche Cayenne. But Audi has gone a decidedly different route with its new SQ5.
Audi broke with convention when it released the SQ5 TDI in Europe, offering the first diesel engine in one of its S models and its first performance-oriented crossover altogether. That model, with its 308 horsepower and 479 lb-ft of torque produced by a 3.0-liter turbo-diesel V6, never made the transatlantic voyage to American shores, but Audi has just revealed a different version for the North American market (as well as certain Asian and South American countries) with a gasoline engine.
The SQ5 TSI is powered by a 3.0-liter supercharged V6 driving 349 horsepower and 347 lb-ft of torque (more and less, respectively, than the TDI) through an eight-speed automatic and Quattro all-wheel drive with torque vectoring. Running from 0 to 62 mph is conservatively quoted at 5.3 seconds, with a top speed limited (in typical German fashion) to 155 mph.
Compared to less aggressive versions of the Q5, the SQ5 also rides 1.2 inches closer to the ground on a sport-tuned suspension with 20- (or available 21-) inch wheels. It's also visibly sportier with new bumpers, spoiler and platinum-grey trim, while the interior has been upgraded with a combination of black Nappa leather and Alcantara upholstery, with aluminum controls and gray instrument dials with white numerals.
Pricing has yet to be announced, but the SQ5 makes its public debut on January 14, after which deliveries will commence at Audi dealerships across the United States in the third quarter of 2013.
Alongside the SQ5, incidentally, Audi has also announced the availability of the RS5 Cabriolet, joining the existing RS5 Coupe in North America with its 4.2-liter, 450-horsepower V8.