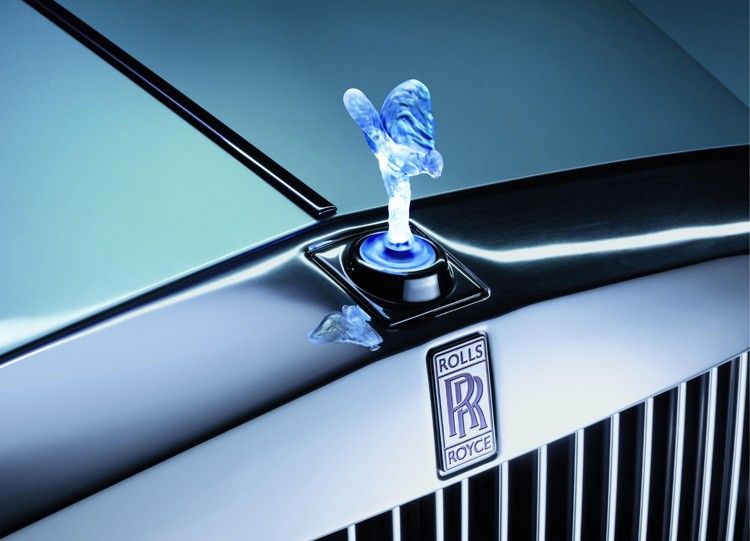 Photo Courtesy of Rolls-Royce
The Spirit of Ecstasy has capped the grilles of Rolls-Royce motor cars for over a century now, making it the most enduring of
luxury automotive
mascots in the business. But while the majority of these prestigious Flying Ladies have been rendered in stainless steel, Rolls-Royce is now offering its iconic ornament in a variety of materials and finishes.
Some buyers have been known to specify their Rolls-Royce limousines and luxury touring coupés with Spirits of Ecstasy plated in stirling silver or even gold. Others have been known to take things even further with solid silver or solid gold mascots. But when the British luxury automaker began testing electric prototypes of its Phantom sedan under the 102EX program, it differentiated them with an illuminated polycarbonate hood ornament glowing in icy blue.
With the 102EX program shelved for the time being pending the improvement of battery technologies, the buzz on the Rolls-Royce scene indicates that the motor company is offering these illuminated hood ornaments to any buyer of its Phantom or Ghost models.
Whichever material you might select for the ornament on your Rolls-Royce, rest assured that it has been designed with safety and security in mind, too. In the event that a Rolls-Royce motor car should unexpectedly meet a pedestrian, the hood ornament quickly retracts into the prominent grille upon which it sits to avoid injury.
The ornament also automaticlaly retracts when the car is parked so as to avoid theft or vandalism, and can be manually retracted at the push of a button located inside the glove compartment as well.