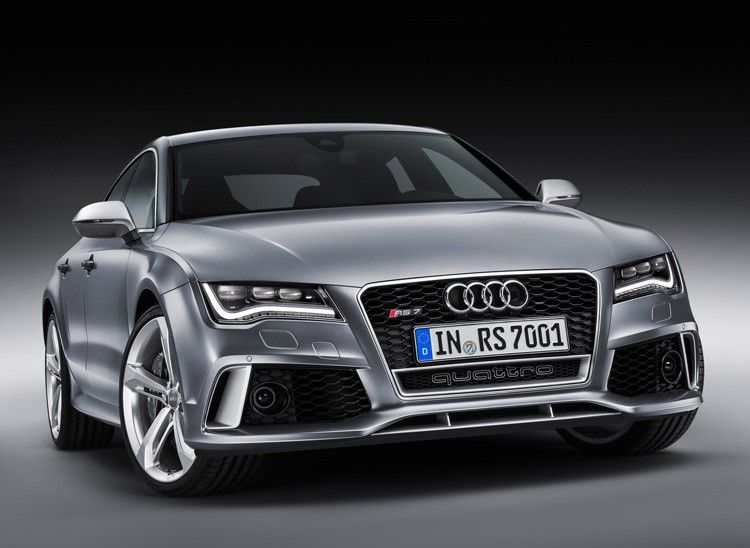 Photos Courtesy of Audi
Last month we brought you the Audi RS6 Avant, a 560-horsepower, all-wheel-drive performance wagon that would put many an exotic sportscar to shame. Unfortunately, the new RS6 Avant won't be available in North America, but as predicted, Audi has followed up with an even more enticing option that will be.
Feast your eyes on the Audi RS7 Sportback. Based on the A7 — the German automaker's flagship four-door coupe — the RS7 packs the same 4.0-liter twin-turbo V8 into a more svelte form. And a fast one, at that: the RS7's 560 horsepower can propel it to 60 in just 3.9 seconds and on to a top speed as high as 190 miles per hour.
Audi
The power is channeled — in typical Audi style — to all four wheels, but not through a seven-speed dual-clutch transmission (which wouldn't be able to handle all the muscle the RS7 has on tap), but instead through a more robust eight-speed automatic transmission.
Debuting alongside a revised Mercedes-Benz CLS63 AMG and BMW M6 GranCoupe at the North American International Auto Show in Detroit just last month, the new Audi RS7 is the latest in a string of German high-performance fastbacks that offer all the speed and cachet you'd expect from a sportscar, only with an extra set of doors and seats so you can bring your best friends along for the ride.
Audi
Audi
Audi
Audi