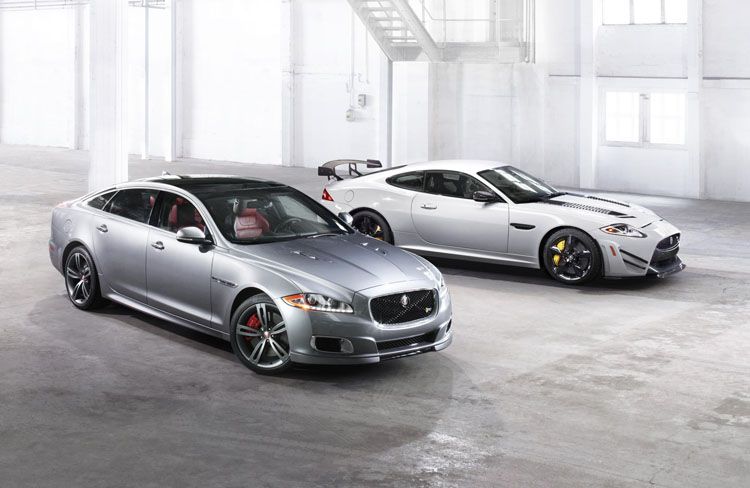 Photos Courtesy of Jaguar
Jaguar
has been producing some of the finest sports and luxury cars for the better part of a century now, but this year the quintessentially British automaker marks 25 years of its R line. The lineage stretches back to the XJR-9 racing car that dominated the World Sports Car Championship in the 1980s, which itself lead to the XJR-S sportscar and XJR sedan in 1988. Numerous performance sedans, coupes and convertibles have followed, but this year at the New York Auto Show, Jaguar capped the range with not one, but two new R models.
The new XKR-S GT has emerged as the most extreme evolution of the XK coupe line, enhanced by revised bodywork and mechanicals to take
Jaguar
from sumptuous boulevard cruiser to genuine track monster — and out from under the shadow of Aston Martin it had to live with while the two were mutually owned by Ford.
The factory in Coventry gave the XKR-S GT a new carbon-fiber aero kit that produces 320 pounds of added downforce to help it stay glued to the tarmac, plus 20-inch wheels fitted to a wider front track, an upgraded suspension and — for the first time on a road-going Jaguar — a set of carbon-ceramic brakes. With a 550-horsepower supercharged V8, a six-speed automatic transmission and an electronic differential, the XKR-S GT runs to 60 in 3.9 seconds. Only 30 examples will be coming to North America, each selling for a princely $174,000.
Those seeking the same power but in a more accommodating form will likely be more intrigued, however, by the new XJR sedan. More powerful than the Mercedes-Benz S63 AMG and Audi S8 which it targets, the XJR has the same 550-horsepower 5.0-liter supercharged V8 as the aforementioned XKR-S and the smaller XFR-S  sedan, but mated to a new eight-speed automatic transmission. Most crucially, though, the XJR is based on Jaguar's flagship
luxury
saloon, and will be available in both standard and extended wheelbases to provide all the  creature comforts and prestige a potential buyer of such a performance luxury sedan could desire, with a price tag starting at $115,000.