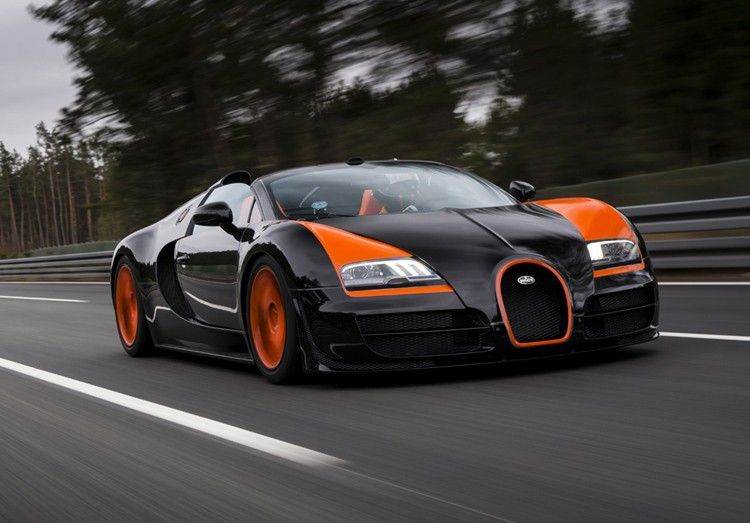 Photos Courtesy of Bugatti
Long known for producing the fastest luxury car in the world,
Bugatti
fell upon some controversy recently when the authorities at the Guinness Book of World Records briefly stripped its Veyron Super Sport of its title due to a technicality. It didn't take long for Guinness to reconsider and restore the Veyron's supremacy over more primitive American challengers, like the Hennessey Venom GT and SSC Ultimate Aero. But in between the decisions, Bugatti sought to reassert its standing and took its Veyron Grand Sport Vitesse roadster to its parent company Volkswagen's Ehra-Lessien test track in Lower Saxony, Germany, to set a new record.
Although the
Vitesse
version — which combines the open-top body style of the Grand Sport with the more powerful engine from the Super Sport — was originally projected to reach "just" 233 mph, when Chinese driver Anthony Liu got behind the wheel, he managed to reach an astonishing 254.04 mph (408.84 km/h). The Veyron was propelled once again into the record books as the world's fastest open-top production car, as certified by German regulatory body TUV.
"When we introduced the Vitesse, we established the top speed for open-top driving to be 375 km/h. Still, we could not let go of the idea of reaching the 400 km/h mark with this car as well," explains Bugatti chief Dr. Wolfgang Schreiber. "The fact that we have succeeded in reaching 408.84 km/h is a thrill for me, and it reaffirms once again that Bugatti is the leader when it comes to technology in the international automotive industry".
To commemorate the record, Bugatti is releasing a limited run of eight Vitesse roadsters decked out in a special orange and black color theme. Called the Bugatti Veyron 16.4 Grand Sport Vitesse World Record Car Edition, it's mechanically identical to the existing Vitesse with its 1,200-horsepower 8.0-liter quad-turbo W-16 engine, but commands a princely €1,990,000. No one ever said going fast would come cheap.