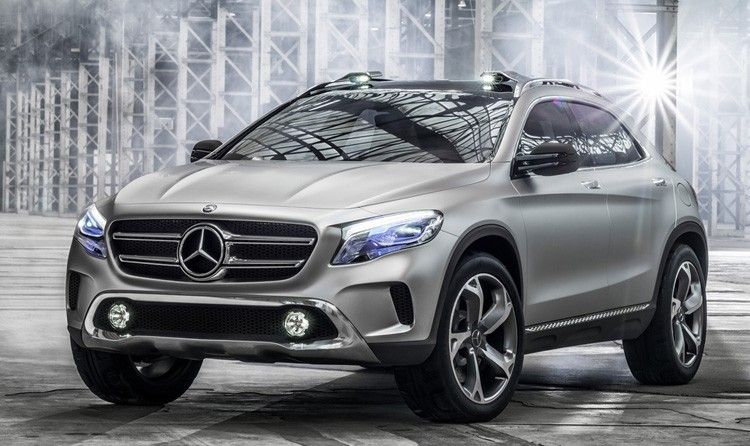 Photo Courtesy of Mercedes-Benz
We recently brought you news of two new compact premium performance sedans from Germany's finest luxury automakers. The
Mercedes-Benz
CLA-Class and Audi A3/S3 sedans are more economical on fuel, easier to park, nimbler to handle and cheaper to buy than their larger counterparts — but what they don't skimp on is the luxury. However, four-door sedans aren't the only cars that the world's automakers are downsizing.
The
Shanghai Auto Show
this year saw an array of automakers unveil conceptual previews of new premium compact crossovers that show us the way forward for versatile luxury automobiles that don't carry with them the heft of their larger counterparts.
Photo Courtesy of Mercedes-Benz
Arguably the biggest of the small-sized splashes in Shanghai was made by
Mercedes-Benz
with its GLA concept. Slotting in below the current GLK-Class (to say nothing of the larger ML, GL, and G-Class SUVs), the GLA shares its underpinnings with the aforementioned CLA and A-Class models in a new family of smaller Benzes. Power comes from a turbocharged 2.0-liter inline-four engine producing 208 horsepower and 258 lb-ft of torque, mated to a seven-speed dual-clutch transmission and 4Matic all-wheel drive. The concept features some intriguing elements, including laser-beam headlamps, roof-mounted video cameras, and an interior decked out in baseball-glove leather with 65 feet of hand stitching. While some of these elements are bound to lose their way on the road from concept to production, the overall form will likely remain in-tact when it joins Mercedes' growing range of small cars.
Photo Courtesy of BMW
Never one to let its rivals steal the spotlight unchallenged,
BMW
was also on hand in Shanghai with its new X4 concept. Envisioned as a smaller counterpart to the oddly-shaped but popular X6 "sports activity coupe," the X4 is characterized by a fastback shape sitting on a similar footprint to the existing X3. Although technically appearing in concept form, the X4 is set to be built at BMW's factory in Spartanburg, South Carolina — the same facility that builds the X3, X5 and X6 crossovers — with sales to begin sometime next year.
Photo Courtesy of Volkswagen
Although Volkswagen may have started out building cars for the Average Joe (or Joanne, anyway), models like the CC, Phaeton and Touareg have long since propelled it into luxury territory. And in Shanghai, VW joined its fellow German automakers in unveiling a compact crossover of its own. Following the larger, seven-seat CrossBlue concept unveiled in Detroit at the start of the year, the CrossBlue Coupe concept previews the next-generation Tiguan. Despite the "coupe" name, the concept packs four doors (five if you count the tailgate) into an angular form that's propelled by a hybrid powertrain coupling a 295-horsepower V6 with an electric assist for a combined output of 415 horsepower, but can operate on electric power alone for up to 21 miles.
Photo Courtesy of Acura
The Germans weren't the only ones on hand with premium compact crossover concepts, however, as
Acura
sailed from Japan to Shanghai with the SUV-X concept. Precious few details were revealed, but what is apparent is a new design language which Honda's luxury division is likely to adopt across its entire range in the coming years. As for the concept itself, the SUV-X previews a new compact crossover to slot in below the existing RDX and MDX models in the Japanese automaker's expanding sport-utility lineup.
Photo Courtesy of Acura
While none of these concepts will be hitting showrooms as they are, each foreshadows a production version to follow in the near future. And when they do reach production, they will make large SUVs like the Mercedes-Benz GL-Class, BMW X5,
Volkswagen
Touareg and Acura MDX look rather bloated by comparison.
Photo Courtesy of Volkswagen
Photo Courtesy of BMW
Photo Courtesy of Mercedes-Benz