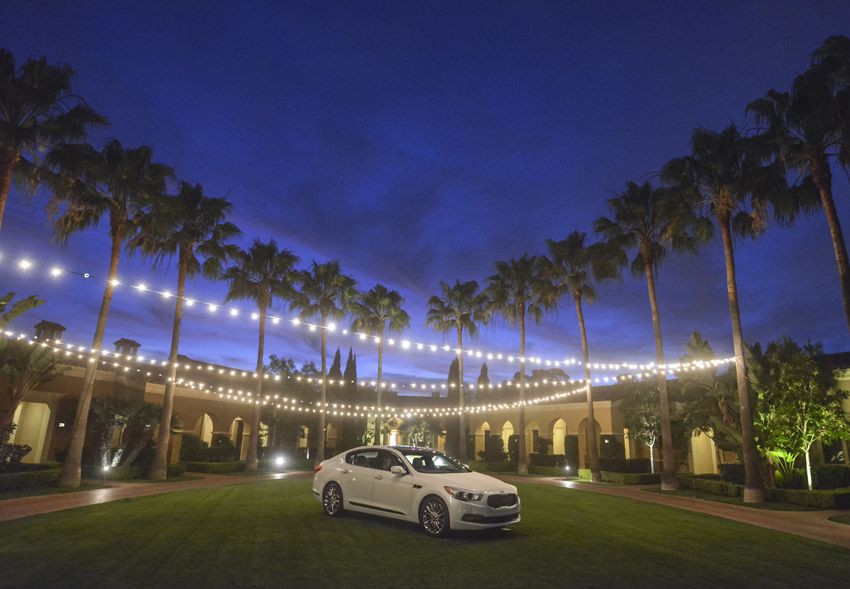 Photo Credit: Greg Jarem
When you think of a luxury auto brand, names like BMW and Jaguar probably come to mind, but we're willing to bet Kia doesn't factor in at all. That may change soon if the South Korean automaker has their way, as they're pretty darn serious about entering the competitive luxury market with their new 2015 K900 sedan.
People typically picture sexy sports cars when they think of spending a lot of money on an automobile, but let's be honest, if you're looking for a sedan in the first place, you really don't need to buy that Lamborghini. After all, you're not going to win any races stuck in city traffic on your way to work. Wanting to capitalize on a very specific group, Kia has narrowed their focus onto high-powered CEOs and businessmen in the 45 to 54 age range, the "confident individualist" who needs to be able to drive people around in a comfortable car.
Photo Credit: Greg Jarem
Kia invited journalists out to The Resort at Pelican Hill in Newport Beach to try the car out for themselves, which I had no problem doing. From the premium bungalows we stayed in to the fantastic food laid out (of which I ate all), the company put on a great event to showcase their "modern take on luxury." They mapped out a fun route for our test drive that took us inland to Temecula wine country via the Pacific Coast Highway and mountain roads.
The first thing I noticed about the car is that it certainly looks the part. According to Michael Sprague, Executive Vice President of Sales and Marketing, Kia wants to "challenge the luxury you know" with their K900. By combining luxury with everyday driving needs, this massive car is definitely roomy — you may feel like you're actually in your living room - and is full of luxury materials. Plus, it's so quiet in there that you don't even really hear the outside world.
Photo Courtesy of Kia
The V8 VIP Package that I drove (the K900 V6 will be released at a later date) features the company's signature grille, which has been reinterpreted just a bit, and a very strong shoulder line. LED lighting was added around the entire thing, except for the rear lights, and are tuned to mimic actual sunlight. They also have a 12-degree range of motion so when you turn sharp corners, the lights move with you.
The 5.0-liter V8 engine (the first to be introduced to their line-up), eight speed automatic transmission gives you 420 horsepower and 376 pounds per feet of torque. To be honest, you have to push pretty hard to feel that power (not surprising considering it weighs 4,555 pounds!) but once you get there, you aren't left wanting more.
Photo Courtesy of Kia
Kia definitely spent a lot of time getting the interior just right, from the nappa leather that took nearly three years to perfect to the natural wood accents and amenities. The seats, both front and back, have heating and cooling capabilities (with the cool setting feeling strangely akin to Icy Hot being rubbed all over your backside).
The front seats have 16-way reclining options and memory settings so you don't have to constantly find your sweet spot after someone else drives your car. The back seats even recline, which is something pretty unheard of in the class of autos Kia is usually associated with. When sitting inside the cabin, you feel completely encapsulated by the car, which could certainly bother some people — in fact, the high shoulder made me feel like I was being driven by the car, not the other way around.
Photo Courtesy of Kia
The infotainment screen is controlled using the center console instead of a touch screen so that the dash could be pushed even further from you to maximize space. Speaking of controls, they are everywhere. Let's just say, if you're driving clients around, they'll never run out of buttons to play with.
The amount of options are a little overwhelming and aren't as user friendly as they could be, and it's here where you can see Kia struggled a little to find an identity for the K900. They just threw too much at their flagship luxury sedan instead of dialing it back and letting the car speak for itself. Of course, as a 28-year-old female, I'm certainly not their target audience, so maybe this won't bother everyone.
Photo Courtesy of Kia
Among all of the gadgets, they smartly included a head's up driver display that can be customized to project whatever information you want to see — I don't recommend driving with polarized sunglasses if you want to actually see it though. They also added plenty of safety features with their first use of Advanced Vehicle Safety Management, which brings in vibrating seat belts to get your attention and pre-pressurizing of the braking system to prepare for sudden collisions. Additionally, the Lexicon by Harman audio system sounds pretty great and includes 17 speakers in 16 locations throughout the K900, while the 12-channel digital amplifier gives 900 watts of power.
The great sound may have something to do with how seriously quiet it is in the cabin. Kia added sound-dampening features everywhere they could, from the binding materials within the car to the mesh screen blocking wind passing over the open panoramic sunroof and the full-length belly panels underneath the car to manage air flow.
Photo Courtesy of Kia
The brand is hoping that customers will take a chance on the K900, going for something new and exciting rather than an auto brand they're already familiar with. "Kia's rise over the last five years has been fueled by a willingness to challenge the status quo with vehicles such as the Optima, Sorento and Cadenza, which have brought new and more affluent customers to our showrooms and dramatically raised the profile of the brand while maintaining our value proposition," explains Michael Sprague. " The K900 is the next logical progression for Kia. It demonstrates what Kia is capable of and will help redefine what the Kia brand stands for."
Photo Courtesy of Kia
The Kia K900 may have lost its footing in a few areas, but it's a great luxury sedan option if you're in the market for one. The Premium V8 Luxury and VIP models will be released during the first quarter of this year, with prices starting at $59,500 (not counting the $900 destination charge). Trust me, you'll want the VIP version, which will cost you $65,500 — expensive for Kia, but standing firm in the space between mid-luxury and premium luxury. The car also comes with a three-year, 37,500-mile complimentary scheduled maintenance program.
Photo Courtesy of Kia
Photo Courtesy of Kia
Photo Courtesy of Kia