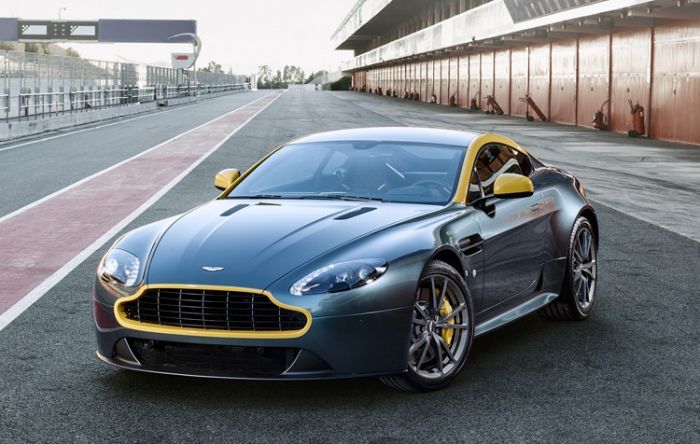 Photos Courtesy of Aston Martin
Driving an Aston Martin, let alone owning one, is a rare privilege. The British grand touring machines manage to straddle the divide between high-performance sports cars and luxury coupes like few others can, but their prices and limited production mean that they're not exactly a common sight in most locales. But even in such rarified company, some Astons are more special than others. In addition to its core range consisting of the Vantage, DB9, Vanquish and Rapide, the hundred-year-old automaker occasionally produces a handful of special editions. And that's just what it unveiled at the Geneva Motor Show this year.
The first is based on the V8 Vantage, the most compact sportscar in the company's lineup. Aston Martin has been campaigning the Vantage with some success in GT racing around the world, and it's to that success which it toasts with the new V8 Vantage N430. Available as either a coupe or convertible, the N430 adopts the 4.7-liter V8 from the V8 Vantage S in full 436-horsepower spec, but that's not all. To channel the spirit of Aston Martin's racing program, the N430 features carbon-Kevlar racing seats and ten-spoke, graphite-finished alloy wheels to help trim the curb weight.
Aston Martin V8 Vantage N430
The power bump and weight reduction help the N430 reach 60 miles per hour in just 4.6 seconds and a top speed of 190 mph. Its motorsport-inspired liveries — available in five color schemes — will make it look even faster, while upgrades to the brakes, steering and suspension will help keep it all under control.
"N430 is all about bringing track-honed excitement to the road in an accessible, emotionally engaging, and authentically 'analogue' way," says Ian Minards, director of product development at Aston Martin. "The dynamic exhilaration of Vantage is the perfect complement to the eye-catching looks of the N430."
Aston Martin V8 Vantage N430
Alongside the Vantage N430, Aston has also revealed the latest Carbon editions, available in either black or white. Based on the DB9, the Carbon editions feature a 6.0-liter V12 engine with 517 horsepower on tap. The cars are upgraded with carbon-fiber and black trim, both inside and out, to either compliment or contrast with the chosen shade for the bodywork and brake calipers.
"The classic DB9 Carbon Black and daring DB9 Carbon White special editions give this timeless GT a fresh and highly desirable new appearance," explains Aston's designer director Marek Reichman. "Meanwhile, the exciting details that define N430 should leave no one in any doubt about the car's motorsport roots. Bold graphic treatments and the option of vivid colour combinations conjure up clear visual echoes of the race circuit."
Aston Martin V8 Vantage N430
Aston Martin DB9 Carbon
Aston Martin DB9 Carbon