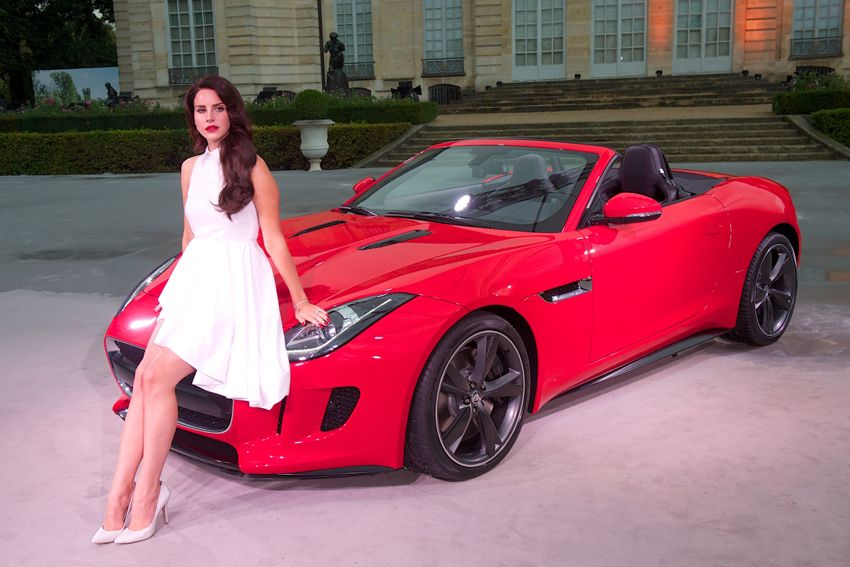 Photo Courtesy of Jaguar
We started out wanting to satisfy our curiosity about what kinds of luxury cars celebrities drive, and ended up going on an epic fact-finding mission to make the most complete list of celebrity rides ever compiled, anywhere. Of course, we all know about Justin Bieber's antics behind the wheel, but along the way we came across some interesting, lesser known celebrity conveyances. Daniel Craig is an Audi fan. Carlos Slim, the world's richest man, has been spotted driving a Bentley Flying Spur. Natalie Portman drives a low-key Lexus RX, while Ozzy Osbourne gets the groceries in a matte black Ferrari 458 Italia. Kanye West has a matte black Lamborghini Aventador, but prefers a Porsche Panamera when in Paris. And when not driving his Porsche GT3, Patrick Dempsey grabs the wheel of his Mercedes-Benz SLS AMG.
The data shows that Porsche and Mercedes-Benz are the most popular celebrity car brands, but Ferraris and Bentleys are pretty high up there too. Read on for the full list and find out how your favorite celebs are spending all that hard-earned dough!
Photo Credit: Joe Seer/Shutterstock
Audi: David Beckham (S8), Sandra Bullock (A6), Daniel Craig (S6), Vanessa Hudgens (A7), John Mayer (R8), Jason Statham (R8), Dwyane Wade (R8), Robert Downey Jr. (A7), Cristiano Ronaldo (RS6), Justin Timberlake (S8), Rosie Huntington-Whiteley (S5), Chris Brown (R8), Taylor Lautner (R8), Sienna Miller (TT), Kevin Costner (S8), Zooey Deschanel (A5), Michael Bloomberg (R8), Phil Knight (R8), Taylor Swift (Q7), Zac Efron (S5), Zoe Saldana (A8), Miranda Kerr (A8), Harry Styles (R8)
Aston Martin: Dwyane Wade (Vanquish Volante), Jason Statham (DBS), Olivier Martinez (V8 Vantage), Ice-T (Vantage), Eddie Murphy (Vanquish), Ryan Seacrest (DB9), Pierce Brosnan (Vanquish), Adam Carolla (DB9), Jonathan Ives (DB9 and Vanquish), Lil Wayne (Vantage), Sylvester Stallone (DBS), Prince Charles (DB6), David Beckham (AMV8), Janet Jackson (Vanquish), Marc Anthony (DB7), Missy Elliott (Vanquish), Jamie Oliver (Vantage)
Photo Credit: Featureflash/Shutterstock
Bentley: Drake (Supersports), Jennifer Lopez (Continental), Prince William (Flying Spur), Bruce Willis (Continental), Eva Longoria (Continental), Jonathan Ives (Brooklands), Simon Cowell (Azure), Sylvester Stallone (Continental), Arnold Schwarzenegger (Supersports), Paris Hilton (Continental), Floyd Mayweather (Mulsanne), David Beckham (Supersports and Mulsanne), Cristiano Ronaldo (Continental), Ryan Seacrest (Flying Spur), The Game (Continental), Lil Wayne (Mulsanne), Sharon Stone (Continental), Scott Disick (Mulsanne), Queen of England (State Limousine), Carlos Slim (Flying Spur)
BMW: Brad Pitt (Hydrogen 7), Jessica Alba (750iL), Anne Hathaway (i3), Reese Witherspoon (Alpina B7), Heidi Klum (M6), Selena Gomez (X5), Cristiano Ronaldo (M6), Taylor Lautner (Z4), Will Ferrell (Hydrogen 7), Alanis Morissette (X5), Samantha Ronson (750iL), Sean Penn (Z3), Taye Diggs (X6)
Bugatti: Drake, Birdman, Flo Rida, Floyd Mayweather, The Game, Chris Brown
Photo Courtesy of Ferrari
Ferrari: Pharrell (Enzo), Justin Bieber (458 Italia), Harry Styles (California), Kim Kardashian (F430), Jermaine Jackson (California), Eddie Murphy (599 GTB), Dwyane Wade (F12 Berlinetta), Rick Ross (458 Italia), Gordon Ramsay (F12 Berlinetta), Paris Hilton (F430), Adam Levine (365 GTC), 50 Cent (FF), Cristiano Ronaldo (599 GTO), John Mayer (599 GTB), LeBron James (F430 Spider), Ozzy Osbourne (458 Italia), Tommy Hilfiger (Enzo), Alex Rodriguez (575 Maranello), Hugh Grant (California), The Game (F430 Spider), Ashton Kutcher (California), Tyga (California), Seal (F430 Spider), Kobe Bryant (458 Italia Spider), Flo Rida (California), Ralph Lauren (F430 Scuderia), Keith Urban (F360), Usher (F430 Spider), Gucci Mane (458 Italia), Wyclef Jean (360 Spider), Adrien Brody (F430), Rod Stewart (599 GTB)
Photo Credit: Featureflash/Shutterstock
Ford: Shia LaBeouf (F150), John Mayer (Raptor), Heidi Klum (Raptor), Dwayne Johnson (F150), Simon Cowell (Bronco), Christina Aguilera (Mustang), Amber Heard (Mustang), Nick Jonas (Mustang), Shaquille O'Neal (Mustang), Benji Madden (Galaxie), Ken Block (Raptor)
Jaguar: Victoria Beckham (XJ), Kelly Rowland (F-Type), Lana Del Rey (XKF), Patrick Dempsey (XK120), Harrison Ford (XK140), Miranda Kerr (XJL), Danny Aiello (XJL), Jay Leno (E-Type), Kristin Davis (XF)
Lamborghini: Kanye West (Aventador), Swizz Beatz (Aventador), Chris Brown (Gallardo and Aventador), Scott Disick (Aventador), Cristiano Ronaldo (Aventador), 50 Cent (Murcielago), Rick Ross (Murcielago), Missy Elliot (Gallardo), Robinho (Gallardo), Kobe Bryant (Aventador)
Lexus: Natalie Portman (RX), Paris Hilton (LFA), Paul McCartney (LS600h), Gisele Bündchen (RX), Owen Wilson (ES), Sarah Michelle Gellar (RX), Halle Berry (RX)
Photo Credit: Joe Seer/Shutterstock
Maserati: Pierce Brosnan (GranTurismo), Miley Cyrus (Quattroporte), Lapo Elkann (Ghibli), Gwen Stefani (Quattroporte), Barry Diller (GranCabrio), Britney Spears (GranCabrio), Kylie Minogue (Gran Turismo), Katy Perry (GranCabrio)
Maybach: Madonna, Will Smith, Samuel L. Jackson, Birdman, Lil Wayne, Jay Z, Sean Combs, Kanye West, Rick Ross
McLaren: Miley Cyrus, Lady Gaga, David Beckham, Ludacris, Larry Ellison, Swizz Beatz, Dwayne Wade, Jay Leno, Will.i.am
Mercedes-Benz: Liev Schreiber (E350 wagon), Harry Styles (190 SL), Hilary Duff (G-Wagen), Jon Hamm (SLS AMG), Ashley Tisdale (G55), Tom Ford (G-Wagen), Ashley Olsen (G-Wagen), Kylie Jenner (G-Wagen), David Hasselhoff (CLS), Khloe Kardashian (G-Wagen), Gwen Stefani (G-Wagen), Bradley Cooper (G-Wagen), Sheikh Mohammed bin Rashid Al Maktoum of Dubai (G63 AMG), Jay Z (S-Class), Patrick Dempsey (SLS AMG and G-Wagen), Sandra Bullock (GL550), Eddie Murphy (SLS AMG), Tom Cruise (SLK), Justin Theroux (S550), Rick Ross (CLS and S550), Nigo (300 SL), Russell Crowe (S550), Usher (CLS), Jim Carrey (S550), Wyclef Jean (G-Wagen), Jensen Button (C63 AMG DR250), Britney Spears (G55 AMG), Selma Blair (ML 350), Shakira (SL 550), Shaquille O'Neal (S-Class), Jared Leto (SLS AMG), Tiger Woods (S65 AMG), Tobey Maguire (S400), Alec Baldwin (M-Class), Megan Fox (G-Wagen), Mark Wahlberg (SLS AMG)
Photo Courtesy of Porsche
Porsche: Kate Moss (vintage 911), David Beckham (911 Turbo Cabriolet), Dustin Hoffman (911 Cabriolet), Kanye West (Panamera Turbo), Patrick Dempsey (GT3), Hilary Duff (911), Keith Urban (Cayenne), Kiefer Sutherland (Panamera), Jonah Hill (911), Miley Cyrus (Cayenne GTS), Adam Levine (356 Speedster), Maria Sharapova (Panamera GTS), Cristiano Ronaldo (Cayenne Turbo), Ellen DeGeneres (911), LeBron James (911), The Game (Panamera), Jerry Seinfeld (various 911s), Keanu Reeves (911), Zach Braff (911), Adriana Lima (Cayenne), Lindsay Lohan (911 Cabriolet), Rihanna (911 Turbo), Chris Brown (Panamera), Samantha Ronson (911 Targa), Bruce Willis (911 GTS), Sylvester Stallone (Panamera), Pharrell (550 Spyder), Steven Tyler (911 Turbo), Matthew Perry (911 Cabriolet), LeAnn Rimes (Panamera), Ashley Tisdale (Boxster), Bill Gates (959), Michael Dell (Boxster), Robert Pattinson (Boxster)
Photo Credit: Helga Esteb/Shutterstock
Range Rover: Brad Pitt, Charlize Theron, Russell Brand, Kate Moss, David Beckham, Victoria Beckham, Robin Thicke, Sofia Vergara, Pippa Middleton, Jay-Z, John Mayer, Ryan Seacrest, Sharon Osbourne, Chris Brown, Shannen Doherty, Prince Harry, Queen of England, Courtney Cox, Alessandra Ambrosio, Richard Branson, Tim Burton, Hugh Jackman
Rolls-Royce: Swizz Beatz (Wraith), Jaime Foxx (Ghost), Ice-T (Ghost), Rick Ross (Wraith), Simon Cowell (Phantom), David Beckham (Phantom and Ghost), 50 Cent (Ghost), Snoop Dogg (Phantom), The Game (Ghost), Tom Brady (Ghost), Eddie Murphy (Phantom), Ryan Phillippe (Ghost), Shaquille O'Neal (Phantom), Missy Elliott (Phantom), Sean Combs (Phantom), Guy Ritchie (Ghost)
Tesla: Matt Damon, Eva Longoria, Jack Osbourne, Jeremy Renner, Shakira, Ashton Kutcher, Rachel Zoe, Laurence Fishburne
Toyota: Leonardo DiCaprio (Prius), Adrien Grenier (Prius), Ryan Gosling (Prius), Julia Roberts (Prius), Kirsten Dunst (Prius), Eric Schmidt (Prius), Sarah Jessica Parker (Prius)
Sources: Zimbio, X17 Online, Celebrity Cars Blog, Flickr, London Daily Mail, Autoevolution, UrbanDaddy's DRIVEN, GT Spirit, Just Jared, Celebritycarz