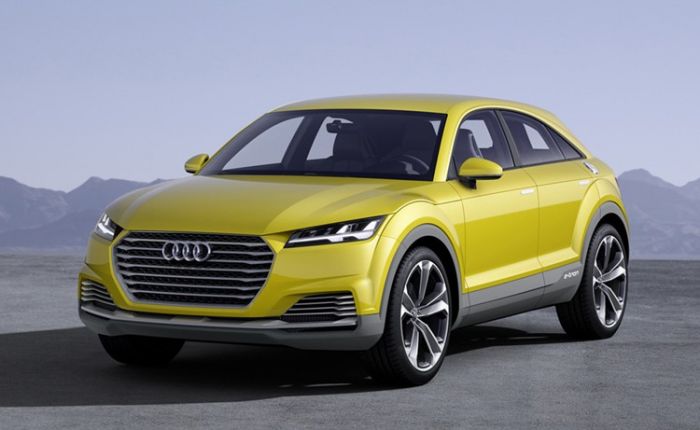 Photos Courtesy of Audi
Choosing a luxury automobile is as much about style as it is about substance. That's why automakers invest so heavily in honing the design of their products, and few are as style-driven as the Audi TT.
Audi first introduced the original TT coupe in 1998. In the years since, it has produced countless versions of the two-door model, with an increasingly potent array of gasoline and diesel engines, coupe and convertible body-styles; recently the brand also revealed the third generation of the model line. But arguably the most intriguing variation on the theme to date is the TT Offroad Concept which Audi revealed at the Beijing Motors Show in April.
Blending the best elements of the TT coupe and Audi's expanding Q line of crossover SUVs, the TT Offroad Concept envisions an expansion of the TT family to include a rakish five-door off-roader. The concept is powered by a plug-in hybrid drivetrain that mates a 2.0-liter turbo four with a pair of electric motors that combine to deliver 408 horsepower — even more than the top-of-the-line TT RS Plus that is the model's performance flagship with 355hp. That's enough to send the crossover concept from 0 to 62 miles per hour in 5.2 seconds and on to a top speed electronically limited (as most German cars are) to 155mph — all the while delivering European-cycle fuel economy rated at 123.8 miles per gallon.
"The Audi TT offroad concept provides a glimpse of how we might imagine a new model in the future TT family," says Audi's R&D Chief Dr. Ulrich Hackenberg. "It combines the sporty genes of the TT with the strengths of a compact Audi SUV. Its plug‑in hybrid drive with the option of inductive charging is a major step toward the mobility of the future. We chose to present the Audi TT offroad concept in China, our second domestic market, because it represents the urban mobility of tomorrow: It is sustainable, dynamic, intelligent and connected."
The sleek form rendered in bright yellow with contrasting dark grey lower body cladding rides on a 21-inch wheels. Inside you'll find a four-seat cabin upholstered in grey Poltrona Frau leather with yellow top-stitching, and diamond-quilted seat inserts with grippy Alcantara micro-suede surfaces. Audi has also equipped the concept with its latest Virtual Cockpit Technology that employs a 12.3-inch thin-film-transistor (TFT) display with 3D graphics.
Of course the Audi TT Offroad Concept remains, for the time being, just that — a concept. But given the success German automakers in particular have found in the marketplace for luxury crossovers (sporty ones especially), it wouldn't come as a great surprise to see Audi put this show car into production in the near future.