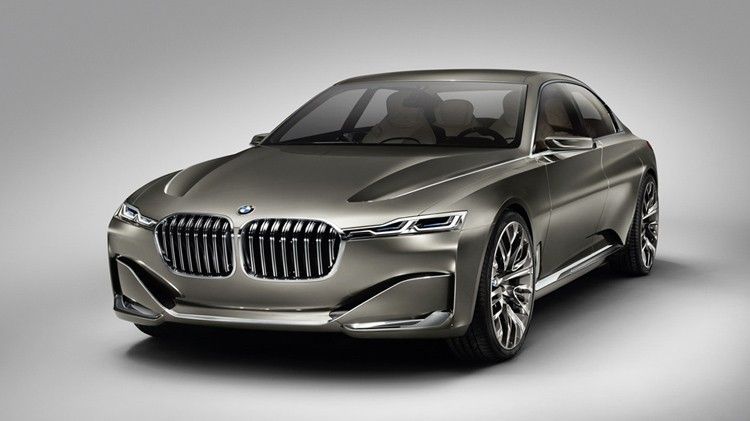 Photos Courtesy of BMW
The BMW Group has plenty to offer those in the market for a top-of-the-line luxury sedan. BMW itself competes with the likes of the Mercedes-Benz S-Class, Audi A8, Jaguar XJ and Lexus LS with the 7 Series, and also brings Rolls-Royce into its portfolio with the Ghost and Phantom saloons. But at the Auto China show in Beijing recently, BMW revealed a flagship luxury sedan concept to bridge the gap between them all.
Called the Vision Future Luxury, BMW's latest concept car borrows some design themes it developed together with famed Italian design house Pininfarina for the Gran Lusso Coupe concept revealed last year at the Concorso d'Eleganza Villa d'Este — only this time they're applied to a more commodious four-door sedan.
"Innovative technology and modern luxury have always been an important part of BMW's brand DNA," says BMW Group design chief Adrian van Hooydonk. "We use visionary concept vehicles like the BMW Vision Future Luxury to show where we may be going with these themes in the future, and to give us new inspiration and motivation. The BMW Vision Future Luxury — with its innovative technologies and with meticulous precision and quality in every detail — takes our thinking on modern luxury a logical stage further."
The concept's elongated shape treads that rare line between elegant and avant-garde, forecasting the next generation of BMW luxury vehicles, but it's inside where the Bavarian automaker has made the most strides. The pampering cabin space would look at home on a private jet, employing such materials as carbon fiber, aluminum, aniline leather and wood trim to create one of the most upscale interior spaces we've seen on any vehicle — production or concept. Add that to the latest technologies (like an advanced head-up display, a rear-seat Touch Command Tablet to access the BMW Luxury Concierge Service, and on-board internet) and you've got a vehicle in which we might be tempted to give up the steering wheel and be chauffeured around town in the height of luxury.
"The design of the BMW Vision Future Luxury is the messenger of our philosophy of modern luxury, one in which innovative technologies play a key and vital role," says designer Karim Habib. "These innovations deliver a new, multifaceted luxury experience that spans intelligent lightweight engineering, innovative interior design and a radically new user interface design."
BMW isn't talking about production prospects for the Vision Future Luxury, or even what's under the hood. If it were to ever reach showrooms, it would likely wear the 9 Series badge — one which the company has never used before — with either the 6.0-liter twin-turbo V12 from the current top-of-the-line 760Li or the larger 6.6-liter unit from the Ghost powering a decidedly upscale luxury sedan through the streets.