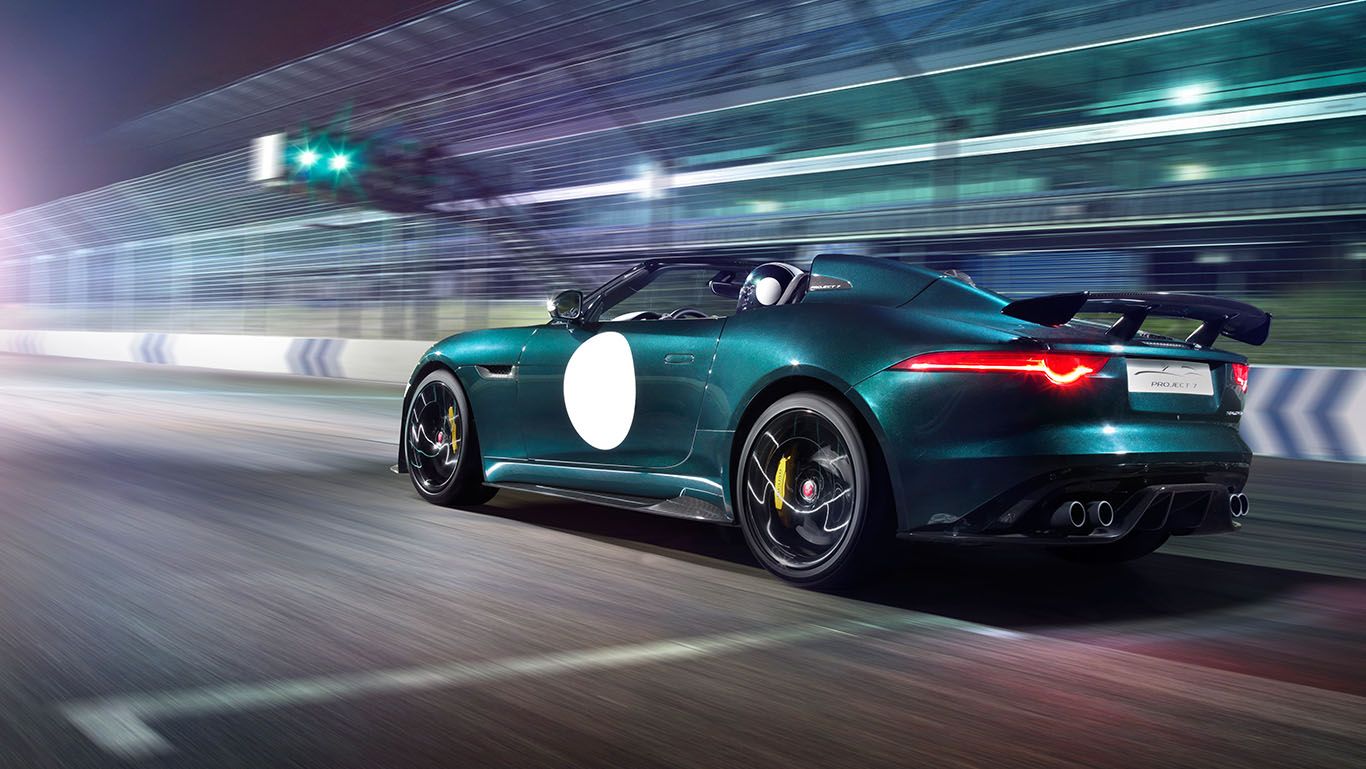 Photos Courtesy of Jaguar
Last week Jaguar debuted their new F-TYPE Project 7 at the 2014 Goodwood Festival of Speed, marking 60 years of the auto brand's D-type racer that was used as design inspiration. Not only will this luxury car apparently be the most performance-focused F-TYPE, promising a faster and more powerful car, it will also be super exclusive with only 250 units made (hand-built by Jaguar Land Rover's Special Operations team).
"Special Operations exists to develop a suite of products and services that enable our most discerning and enthusiastic customers to indulge their passion for our cars. F-TYPE Project 7 is a perfect example of one such product. It's the most powerful production Jaguar vehicle ever built, and pays homage to seven outright Jaguar Le Mans victories with distinctive design cues inspired by the Jaguar D-type which celebrates its 60th anniversary this year," says John Edwards, Managing Director, Jaguar Land Rover Special Operations.
The two-seater, street-legal roadster stays true to the Project 7 concept that was revealed last year, with a 5.0-liter supercharged V8 petrol engine giving 575hp and 502 lb-ft of torque, propelling the all-aluminum car to 60mph in 3.8 seconds and on to an electronically-limited top speed of 186mph. Jaguar's "eight-speed Quickshift transmission and second generation Electronic Active Differential (EAD)" give power to the rear wheels, while Carbon Ceramic Matrix (CCM) fade-free brakes come standard. The F-TYPE Project 7 gives an unparalleled driving experience thanks to "bespoke carbon-fiber aerodynamic aids and a unique suspension set-up."
Not only is the roof removable, along with there being 196-liters of luggage space, the Project 7 luxury automobile also has a carbon-fiber front air splitter, side skirts, rear diffuser, and adjustable rear spoiler.
Prices haven't been officially released yet, but with only 250 made, you can bet this car will run pretty high. For those who do buy one, deliveries are expected to begin in mid-2015.