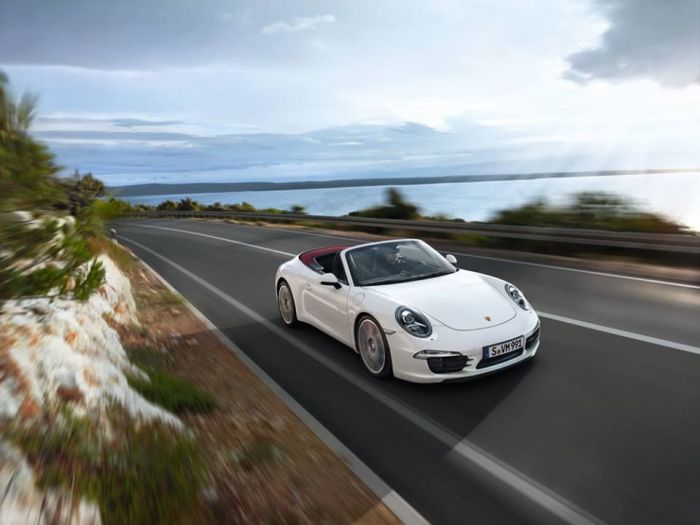 Photo Courtesy of Porsche
Most luxury car marquees offer several different ways to test their autos out before actually buying one, including private consumer driving events and loan programs, because we all know that test driving a car through the dealership is less than ideal—if I wanted to feel judged while driving a car I'd drive with my great-aunt. Porsche Destination Drives are some of the newest driving opportunities, currently touring five select Forbes Travel Guide Five-Star hotels. The experience allows guests of the hotels the chance to take one of four vehicles out on the town to create their own personal driving route. I tested the offering out at the AAA Five Diamond The Grand Del Mar, snagging a 911 Carrera S Cabriolet to take along the San Diego coastline yesterday—with my brother Deyan in tow for some funny commentary.
Photo Courtesy of The Grand Del Mar
With five stops on the Porsche Destination Drive tour, three are ongoing or will be soon (the Four Seasons Hotel in Boston and Chicago ended last month, unfortunately). The Grand Del Mar in San Diego is running the program through to August 23, the Mandarin Oriental in San Francisco is offering it September 13-October 11, and The Canyon Suites at The Phoenician in Scottsdale will be the final stop from November 1 to December 13.
Guests of the hotel during the aforementioned times can reserve one of the four offered cars (including the new Panamera S E-Hybrid and the 911 S Cabriolet) and take it for a two-hour spin. If you aren't familiar with the area, the resort concierge will be ready with some scenic drive options recommended by Forbes Travel Guide—The Grand Del Mar's options included Coronado, Rancho Santa Fe and La Jolla so you can check out the Southern California coast and canyons.
Photo Credit: Mila Pantovich
Unsurprisingly, the Porsche 911 Carrera S Cabriolet is a joy to drive. The 911 convertible first graced the auto world around 30 years ago and was by far the fastest at the time. A lot of people are divided when it comes to convertibles, but the S Cab is pretty pleasing regardless of which style you prefer—with the top up it's as quiet as a coup and with it down, the wind-blocker works perfectly to keep the cabin as undisturbed as possible (seriously, you could probably take a phone call while going 70mph on the freeway easily).
With a top speed of 188mph, the 400hp at 7,400rpm S Cab takes 0-60 in only 4.3 seconds thanks to its 3.8-liter box engine and 325 lb.-ft. of torque at 5,600rpm—throw it in Sport Plus mode and you'll get there in 3.9 seconds. The responsiveness of the brakes are top-notch as well thanks to the addition of two extra pistons on the front brakes (making six in total), giving you a much quicker brake time in even shorter distances.
Photo Courtesy of Porsche
It was certainly tough giving the sports car back (painful even) after cruising around San Diego, but as much as I loved the Porsche S Cab, I think my brother loved it more. With that said, I'll leave you with his impression given over the aggressive roar of the exhaust:
"It makes me feel like a kid again. It feels like there's a softball in my stomach; like some little kid's making lemonade—squeezing lemons—just hammering my insides, because of my excitement...That's what it feels like and it's amazing. It almost hurts though, like…it's a concern."
With a response as strong as that, we can only hope that everyone will have a similar reaction when they get behind the 911 Carrera S Cabriolet's wheel.
Photo Courtesy of Porsche