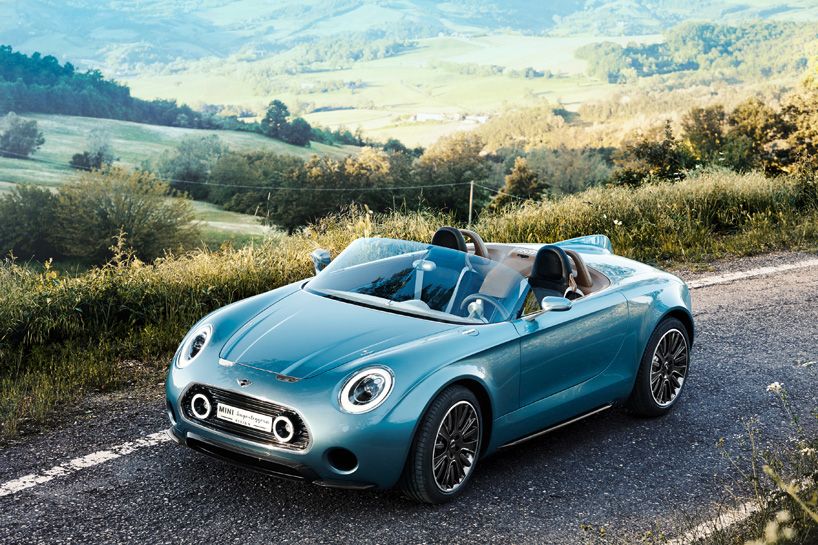 Photos Courtesy of BMW Motors
The MINI Superleggera Vision is, to put it simply, adorable. I know, my femininity is showing by calling it that, but come on, it is! Ever since this elegant one-off design was revealed back in May we've been drooling over the pictures in much the same way we've been drooling over the new Outlander cast. By combining "British character with Italian craftsmanship" the open-top electric-powered speedster is exactly the mini car we've been wanting since we were kids.
"The MINI Superleggera Vision elegantly perpetuates what the Classic Mini started 55 years ago: reduction to the essentials. Its energetic, minimalistic design embodies the dynamic essence of an automobile. At the same time it creates unique emotional beauty in combining the past and future of the automotive industry, i.e. traditional coachwork craftsmanship and modern design styling. It was a pleasure for me to design a concept like this," says Anders Warming, Head of MINI Design.
The Como Blue Superleggera brings classic MINI design elements and combines them with a Touring Superleggera. It has a nice round front-end with a hexagonal grille, a fin-shaped rear with Union Jack tail lights, three-dimensional bonnet stripes, and "go-kart agility." The body is all hand-crafted, made from aluminum sheets that are molded over a lightweight aluminum frame.
"In this car all unnecessary equipment or decoration is sacrificed, as performance is gained through lightness and efficiency of the bodywork and interior. The Italian touch is in the proportions and the typical waistline," says Louis de Fabribeckers, Head of Design at Touring Superleggera.
Though MINI wasn't planning on putting the car into production back when they showcased it at the Concorso d'Eleganza Villa d'Este, we're hoping that they change their minds. TopSpeed hopes they do too, even speculating that the auto could cost $32,000, hit 0-60 in seven seconds and reach a top speed of 135mph.