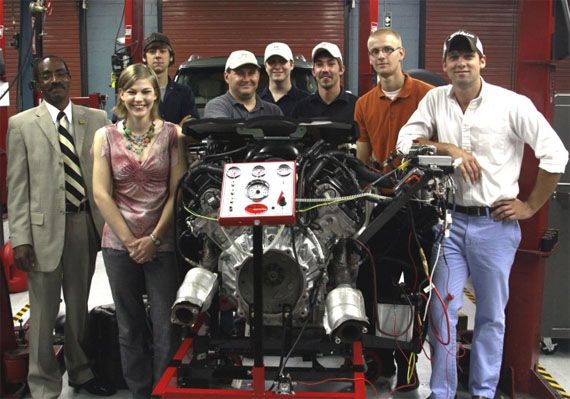 Photo Courtesy of Infiniti USA
Infiniti USA announced this week that it is taking the same engine that powers its Infiniti QX56 and placing it in a luxury sports boat. The first step of the project was completed this week, as the QX56's 400-horsepowered, 5.6-liter V8 engine was extracted from a QX56 and is now being prepped to power a
luxury sports boat
.
A team of automotive technical training program students from the Tennessee Technical Center-Nashville and the Nashville State Community College removed the engine and transmission from a 2011 Infiniti QX with assistance from engineers and training managers at Infiniti. The automaker also donated the remainder of the engineless vehicle to Tennessee Tech for use in its automotive curriculum.
The project will encompass modifying the boat around the QX engine and designing it with the same craftsmanship, performance capability, and luxury appointments that its flagship SUV contains. The assignment for the schools' students is to make the QX engine work, with some components remaining and others to be removed from it.
"The genesis for the Infiniti QX-powered luxury boat project came about when a group of us were talking about our full-size SUV's standing as the perfect luxury tow vehicle — capable of carrying tons of weight, and lots of people and their cargo, in style," said Infiniti Americas VP Ben Poore.
The QX-powered luxury boat project will be completed by the next boating season. Updates from Infiniti's social media team will be posted on Facebook and Twitter. Infiniti's fans and followers also will soon be asked to name the one-off, QX-engine powered boat. To learn more, visit
InfinitiNews.com
.