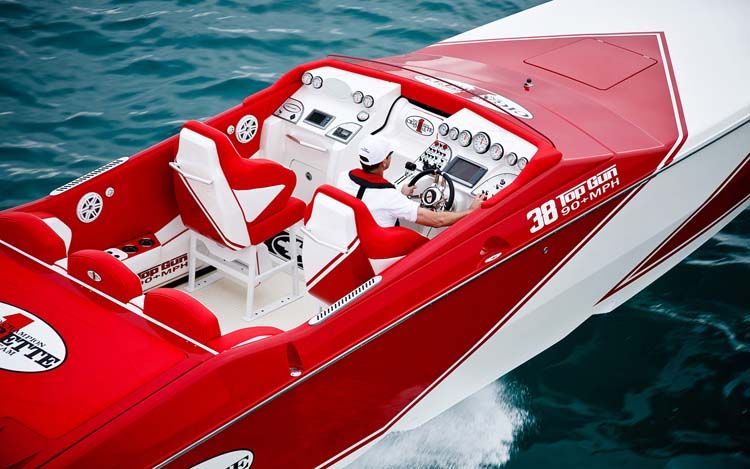 Photo Courtesy of Cigarette Racing Team
Cigarette Racing Team may have started out making waves in competitions but they're now known for their custom-built
luxury boats
. Their 38-foot-long Top Gun model, which has been giving people the opportunity to play Maverick for 25 years now, has been recently boosted to speed in excess of 90mph, while their brand new 42-foot Huntress features two different engine options.


You Might Like: Pair Your Luxury Yacht With a Slick Speed Boat for Under 500k
For you true speed junkies out there the sporty red and white Top Gun can push the limits of speed racing into the triple digits. Featuring new light-weight fiber reinforced composites, the Top Gun focuses on balance and high flying driveability. After attempting to approach what may seem like faster than the speed of light, remember that Einstein was a genius for a reason and ease off the gas to take in the ocean air.
Aside from the Top Gun, there's something bigger and more luxurious on Cigarette Racing's horizon. Introducing the brand new 42-foot Huntress. What does the Huntress offer that the Top Gun doesn't? How about four 300 HP Mercury motors? If that's not fast enough for you, the speedboat is also available with five 350 HP Mercury Racing Engines instead.
After jettisoning through water at a speed that might make James Bond blush, relax in comfort and style on the spacious entertainment deck, or go below into the cabin and watch "From Russia With Love" on the boat's very own flat-screen TV. The berth below deck comfortably sleeps two so you can invite a friend, a family member, or even someone you don't really like (if only to make them envious).
No prices were posted on their website, however prices for both new models are available upon request.
For more information call
CigaretteRacing.com
.